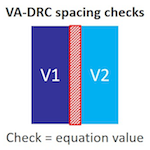 Automated voltage-aware DRC addresses the reliability verification challenges in today's high-voltage and multiple power domain applications.

This second part looks at Mentor's views on flow neutrality, how DRS360 was born, machine learning and the threat from embedded Trojans.

Extracting finFET parasitics means a shift to 3D models, field solvers for greater accuracy, and MCMM techniques.