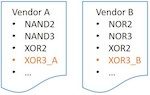 One roadblock to the integration of IP from multiple vendors into an SoC is the likelihood of finding duplicate cell names in the merged design. Carefully considered renaming strategies can fix the problem without causing design database bloat.
Accellera's Portable Stimulus standard aims to improve verification efficiency and the reuse of test IP across the entire design life cycle.

FinFETs present a number of problems with respect to dynamic power consumption. Design techniques are being re-evaluated to deal with the issue.

Monolithic 3DIC integration may provide a viable alternative to conventional 2D scaling for SoCs if manufacturing problems can be overcome.

From maker to enterprise user, apply these seven critieria to get the best PCB design tool for your project.

Describing a security strategy that pulls on best practices and standards to ensure medical device approval and the best patient outcomes.

Reliability rule checks need - and now get - more granular analysis that allows designers to adopt proposed waivers with much greater confidence.