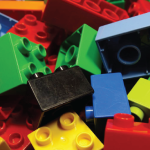 Learn how connectivity management solutions help you manage the multiple formats in which 3D IC components are delivered.
Monolithic 3DIC integration may provide a viable alternative to conventional 2D scaling for SoCs if manufacturing problems can be overcome.

A number of effects have led to a dramatic increase in interconnect resistance in the sub-32nm process nodes that demands the use of smarter routing.

Real-valued modelling provides a way of speeding up the simulation of SoCs with significant analog content through the use of discrete-event solvers.

O-RAN compatible Radio Unit (O-RU) and Distributed Unit (O-DU) verification no longer needs to wait until the post-silicon stage.

Moving part of all of a design flow to the cloud involves careful preparation and evaluation as there is no 'one-size-fits-all'.

Learn more about the five interconnected workflows that are democratizing next generation design in the emerging chiplet age.