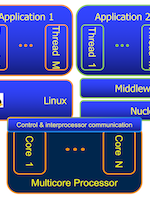 Embedded multicore systems require engineers to make choices around the hardware and software architectures, approaches to certification and more. This is a guide to the trade-offs involved and how to best leverage your options.
Accellera's Portable Stimulus standard aims to improve verification efficiency and the reuse of test IP across the entire design life cycle.

FinFETs present a number of problems with respect to dynamic power consumption. Design techniques are being re-evaluated to deal with the issue.

Monolithic 3DIC integration may provide a viable alternative to conventional 2D scaling for SoCs if manufacturing problems can be overcome.

Doc Formal describes a strategy developed by his company Axiomise to apply formal verification proofs to open-source processor for safety, security and reliability.

In conversation with author and SEMICON West/ES Design West keynoter Bob Pearson on the challenges facing tech on external and internal communication.

Integrated design environments and features within them such as auto-complete deliver valuable efficiencies for input, verification and debut.