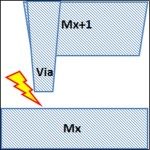 A collaboration between GlobalFoundries and Mentor has resulted in an innovative in-design fixing strategy across markets such as IoT, mobile, RF, graphics and networking.
Accellera's Portable Stimulus standard aims to improve verification efficiency and the reuse of test IP across the entire design life cycle.

FinFETs present a number of problems with respect to dynamic power consumption. Design techniques are being re-evaluated to deal with the issue.

Monolithic 3DIC integration may provide a viable alternative to conventional 2D scaling for SoCs if manufacturing problems can be overcome.

Mentor is rolling out an comprehensive cloud-based design infrastructure feeding into digital twin strategies.

More commonly associated with SystemVerilog, IDEs can also greatly help users of the popular HDL for FPGA, mil/aero and other designs.

Virtualization is becoming ever more common during the Covid-19 outbreak, even for complex technologies like emulation, and showing its strengths.