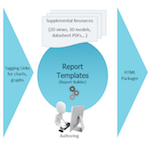 The digital twin and automation help designers manager increasing aerospace design complexity driven by burgeoning electrification.
Accellera's Portable Stimulus standard aims to improve verification efficiency and the reuse of test IP across the entire design life cycle.

FinFETs present a number of problems with respect to dynamic power consumption. Design techniques are being re-evaluated to deal with the issue.

Monolithic 3DIC integration may provide a viable alternative to conventional 2D scaling for SoCs if manufacturing problems can be overcome.

In conversation with author and SEMICON West/ES Design West keynoter Bob Pearson on the challenges facing tech on external and internal communication.

Integrated design environments and features within them such as auto-complete deliver valuable efficiencies for input, verification and debut.

How to remove or extract portions of a layout for easier, more focused and faster project delivery.