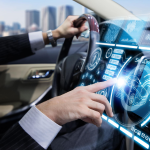 Model-based systems engineering is a necessary next-step in methodology to cope with the broadening range of innovation across automotive, aerospace and other vehicular markets.
Accellera's Portable Stimulus standard aims to improve verification efficiency and the reuse of test IP across the entire design life cycle.

FinFETs present a number of problems with respect to dynamic power consumption. Design techniques are being re-evaluated to deal with the issue.

Monolithic 3DIC integration may provide a viable alternative to conventional 2D scaling for SoCs if manufacturing problems can be overcome.

And when this key architectural decision might involve combining both depending on your design's use-case and demands placed upon it.

VHDL has come a long way in terms of complexity. An integrated development environment helps you deliver better and more compliant code quickly.

But you were NOT afraid to ask.... It's time for some answers.