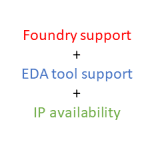 Master the three prerequisites of format translation and chose the right one from the various translation strategies.
Accellera's Portable Stimulus standard aims to improve verification efficiency and the reuse of test IP across the entire design life cycle.

FinFETs present a number of problems with respect to dynamic power consumption. Design techniques are being re-evaluated to deal with the issue.

Monolithic 3DIC integration may provide a viable alternative to conventional 2D scaling for SoCs if manufacturing problems can be overcome.

How an integrated design environment can help you overcome complexities within the Universal Verification Methodology and manage the size of the libraries within it.

How Siemens PAVE 360 platform leverages emulation to deliver the exhaustive test required for the incoming generation of autonomous vehicles.

How to implement self-test across the four main areas where embedded systems can fail.