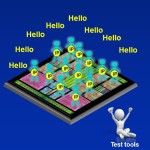 Learn more about how the IJTAG family and associated standards are being enhanced for current challenges.
NAND flash is a key technology for all systems. 3D techniques now control its cost and potential for future capacity increases.

A number of effects have led to a dramatic increase in interconnect resistance in the sub-32nm process nodes that demands the use of smarter routing.

Real-valued modelling provides a way of speeding up the simulation of SoCs with significant analog content through the use of discrete-event solvers.

We have the technology. Learn how to 'shift left' with Calibre DesignEnhancer and meet IR, EM and PPA objectives.

Standards-based digital threads will revolutionize design through part models that deliver trust, traceability and context across components.

O-RAN compatible Radio Unit (O-RU) and Distributed Unit (O-DU) verification no longer needs to wait until the post-silicon stage.