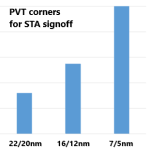 From 16nm, new complexities hinder .lib file characterization and verification but machine learning now offers an efficient way of managing them.
Accellera's Portable Stimulus standard aims to improve verification efficiency and the reuse of test IP across the entire design life cycle.

FinFETs present a number of problems with respect to dynamic power consumption. Design techniques are being re-evaluated to deal with the issue.

Monolithic 3DIC integration may provide a viable alternative to conventional 2D scaling for SoCs if manufacturing problems can be overcome.

Learn more about the Infinera design that took top place at the this year's PCB Technology Leadership Awards.

With features that keep it in current use such as aspect-oriented programming, the e language can leverage integrated design environments. Learn how.

From maker to enterprise user, apply these seven critieria to get the best PCB design tool for your project.