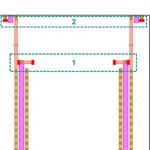 Symmetry verification for analog and custom IC needs to evolve beyond current time-consuming and hard-to-use techniques.
Monolithic 3DIC integration may provide a viable alternative to conventional 2D scaling for SoCs if manufacturing problems can be overcome.

A number of effects have led to a dramatic increase in interconnect resistance in the sub-32nm process nodes that demands the use of smarter routing.

Real-valued modelling provides a way of speeding up the simulation of SoCs with significant analog content through the use of discrete-event solvers.

NVMe over Fabrics (NVMe-oF) extends the memory standard for burgeoning data traffic and the demands of AI and machine learning.

Automotive cockpit design is being driven forward by prevailing trends in the wider market.

What are the options and how do you balance overarching CAD requirements and personal preferences?