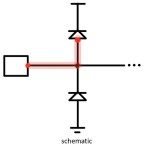 P2P (point-to-point) resistance is fundamental to IC reliability verification. Handle it more efficiently with detailed, automated path layout analysis.
Accellera's Portable Stimulus standard aims to improve verification efficiency and the reuse of test IP across the entire design life cycle.

FinFETs present a number of problems with respect to dynamic power consumption. Design techniques are being re-evaluated to deal with the issue.

Monolithic 3DIC integration may provide a viable alternative to conventional 2D scaling for SoCs if manufacturing problems can be overcome.

How can we refine our approach functional verification to deal with the increasing number of systems that leverage artificial intelligence.

You cannot break your operating system choice down in something as simple as a flowchart but there are some headline criteria you should think about.

How an integrated design environment can help you overcome complexities within the Universal Verification Methodology and manage the size of the libraries within it.