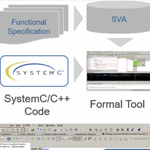 Automated formal technologies can be used to ease the debug and functional verification burden of SystemC/C++ code prior to high-level synthesis. This tutorial, first presented at DVCon Europe explores how these formal techniques can be deployed and provides real-world examples.
Accellera's Portable Stimulus standard aims to improve verification efficiency and the reuse of test IP across the entire design life cycle.

FinFETs present a number of problems with respect to dynamic power consumption. Design techniques are being re-evaluated to deal with the issue.

Monolithic 3DIC integration may provide a viable alternative to conventional 2D scaling for SoCs if manufacturing problems can be overcome.

More optimistic about the semiconductor industries prospects than for some time, Siemens Joe Sawicki identified key EDA challenges at DAC.

Innovation is extending the technique's power across areas such as context-aware layout, accounting for multi-patterning and implementing fill.

Delivering physical implementations at new process nodes is getting ever harder. Learn how to stay on track by checking work is rule-compliant as you go.