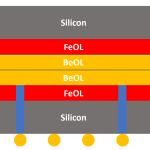 3D-IC presents major connectivity challenges in maintaining a golden netlist and managing necessary exceptions. Learn how to manage them.
Monolithic 3DIC integration may provide a viable alternative to conventional 2D scaling for SoCs if manufacturing problems can be overcome.

A number of effects have led to a dramatic increase in interconnect resistance in the sub-32nm process nodes that demands the use of smarter routing.

Real-valued modelling provides a way of speeding up the simulation of SoCs with significant analog content through the use of discrete-event solvers.

Knowledge, intelligence and optimization are key to managing the logistical disruption seen since the Covid-19 outbreak.

Fast emerging options, like RISC-V, could foster massive growth in design but verification still needs commercial tools, a Semicon West panel found.

NVMe over Fabrics (NVMe-oF) extends the memory standard for burgeoning data traffic and the demands of AI and machine learning.