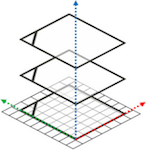 Whether you use OASIS or GDSII, unwanted duplicate cells can make their way into the final SoC database. Learn how to remove them.
Accellera's Portable Stimulus standard aims to improve verification efficiency and the reuse of test IP across the entire design life cycle.

FinFETs present a number of problems with respect to dynamic power consumption. Design techniques are being re-evaluated to deal with the issue.

Monolithic 3DIC integration may provide a viable alternative to conventional 2D scaling for SoCs if manufacturing problems can be overcome.

Refactoring saves time and resuources by converting code to a common format and eliminates redundancies to make it more readable and maintainable.

Hierarchical DFT for Arm-based SoCs is easier than ever with the arrival of a complete reference flow from Mentor and Arm.

Doc Formal rounds up some of the the key observations about verfication made during July's Synopsys VC Formal SIG event in India.