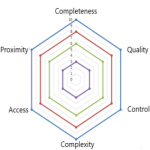 The best paper winner at DVCon 2021 details a comprehensive methodology for making the best use of formal verification for bug hunting
Accellera's Portable Stimulus standard aims to improve verification efficiency and the reuse of test IP across the entire design life cycle.

FinFETs present a number of problems with respect to dynamic power consumption. Design techniques are being re-evaluated to deal with the issue.

Monolithic 3DIC integration may provide a viable alternative to conventional 2D scaling for SoCs if manufacturing problems can be overcome.

Joe Sawicki of Siemens EDA recently addressed the main trends in design delivery from architecture to validation to digital twins - and where they may soon take the industry and its products.

SLS brings the power of product lifecycle management to the increasingly complex oversight challenges in electronic systems design.

Learn more about the Infinera design that took top place at the this year's PCB Technology Leadership Awards.