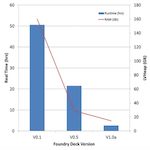 How to get the best PV results by reducing computational demands; handling data more efficiently and exploiting parallelization.
Accellera's Portable Stimulus standard aims to improve verification efficiency and the reuse of test IP across the entire design life cycle.

FinFETs present a number of problems with respect to dynamic power consumption. Design techniques are being re-evaluated to deal with the issue.

Monolithic 3DIC integration may provide a viable alternative to conventional 2D scaling for SoCs if manufacturing problems can be overcome.

Ashish Darbari concludes his series on the need for new verification strategies by considering Debug and Signoff & Review.

Richard Pugh shows how the fast-growing market for drone silicon highlights emulation's power where high data volumes are critical.

In part two of this series, Ashish Darbari introduces a checklist to address verification challenges and build the meta model.