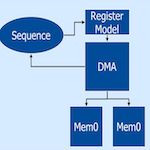 Virtual sequences are considered challenging to write and re-use. Learn how to overcome those issues with the new Portable Stimulus Standard in this DMA-based case study.
Accellera's Portable Stimulus standard aims to improve verification efficiency and the reuse of test IP across the entire design life cycle.

FinFETs present a number of problems with respect to dynamic power consumption. Design techniques are being re-evaluated to deal with the issue.

Monolithic 3DIC integration may provide a viable alternative to conventional 2D scaling for SoCs if manufacturing problems can be overcome.

Escape formal's narrower definitions with a flow that shows you how to Avoid, Detect, Erase, Prove Absence and Tape Out while avoiding bugs.

The verification challenges of using low-power design techniques to enable advanced power-management strategies in complex SoCs.

The basics of USB 3.2, how to implement it in an SoC, and how USB Type-C connectors and cables are used in USB 3.2 systems.