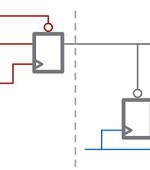 Performing clock-domain crossing (CDC) checks on a flat database is difficult on complex SoCs. Hierarchy improves speed but calls for a smarter approach.
A number of effects have led to a dramatic increase in interconnect resistance in the sub-32nm process nodes that demands the use of smarter routing.

Increasingly complex design rules in 14nm and 16nm make it harder to connect local routing to the inputs and outputs (pins) of standard cells.

X propagation within RTL simulations can hide fatal bugs. Uncovering and eliminating the effect improves design quality and avoids respins.

Reset is no longer simply an 'X' issue but also feeds into power optimization. Catching issues early greatly speeds verification.

Fighter pilots have long trusted highly sophisticated automation. That's how you can meet the challenges posed by advanced PCB design techniques.

Lithography is only just beginning to play a role in cell IP selection but early analysis already matters.