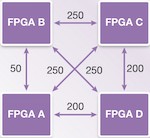 How Imagination Technologies used FPGA-based prototyping to develop its GPU IP and integrate it into a real world system
The 20nm node can offer power, performance and area advantages, but making these gains takes a deep understanding of the interactions between process and design.

Parasitic extraction reveals the impact of implementation on the theoretical performance of IC designs.

Dynamic voltage and frequency scaling is effective for low-power VLSI design. Body or back bias can provide additional control over leakage and performance.

Dedicated processors using convolutional neural networking techniques bring advanced vision techniques such as object recognition to embedded systems.

We are moving towards a "continuum of compute", ARM CEO Simon Segars said at CDNLive Silicon Valley, a trend that will reshape design.

Compliance with aviation's hardware design standard is seen as a 'tough ask', but EDA's own evolution has made that process easier than you may think.