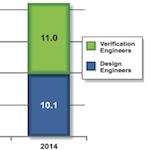 Research study suggests the maturity of your verification flow determines the likelihood of first-pass success far more than the complexity inherent in design size.
FinFETs present a number of problems with respect to dynamic power consumption. Design techniques are being re-evaluated to deal with the issue.

Dynamic voltage and frequency scaling is effective for low-power VLSI design. Body or back bias can provide additional control over leakage and performance.

Monolithic 3DIC integration may provide a viable alternative to conventional 2D scaling for SoCs if manufacturing problems can be overcome.

Designers will have to update development processes to achieve the rigorous safety certifications required in automotive, rail, avionics and similar markets

Emulation is now served by all three leading vendors and is a hot topic for discussion among engineers. The major verification conferences need to follow suit.

Dedicated processors using convolutional neural networking techniques bring advanced vision techniques such as object recognition to embedded systems.