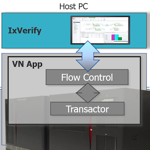 How virtualization and integration with hardware testers are enabling networking SoCs in the billion-gate era.
Parasitic extraction reveals the impact of implementation on the theoretical performance of IC designs.

Monolithic 3DIC integration may provide a viable alternative to conventional 2D scaling for SoCs if manufacturing problems can be overcome.

A static-analysis tool that checks for errors in HDL code, lint is becoming an increasingly important addition to simulation for RTL and SoC signoff.

Mentor's chairman and CEO has dug into why chip sales forecasts often miss the target and suggests some tools for assessing the Internet of Things.

Analysts say there is a $1B market on the horizon. We talk with Mentor's Jean-Marie Brunet about where such a number could come from.

Users now demand a smooth GUI experience. Making sure they get one requires harvesting and understanding key metrics.