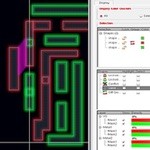 The arrival of the 10nm process will impact the way that designers approach custom and mixed-signal layout. Cadence Design Systems has made changes to its Virtuoso environment that deploy increased automation support and electrically-aware layout to deal with the upcoming issues.
Clock-tree generation is coming under increased scrutiny because of its role in dynamic power consumption and problems caused by on-chip PVT variation.

FinFETs present a number of problems with respect to dynamic power consumption. Design techniques are being re-evaluated to deal with the issue.

Dynamic voltage and frequency scaling is effective for low-power VLSI design. Body or back bias can provide additional control over leakage and performance.

Achieving IoT security means addressing every link in the chain, from the quality of your application code to embedding a root of trust in the hardware.

Although FastSPICE simulators are in almost every design flow, requirements are moving beyond the capabilities they can provide. Parallel processing provides a solution.

Verification IP can help verify that memory-controller implementations meet standards; test an implementation against specific memories; and drive traffic for SoC verification and power analysis. Here's how to choose it.