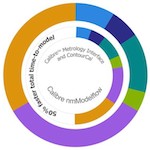 John Sturtevant looks at ongoing preparations for the incoming node and charts significant progress that has already been made.
The 20nm node can offer power, performance and area advantages, but making these gains takes a deep understanding of the interactions between process and design.

Parasitic extraction reveals the impact of implementation on the theoretical performance of IC designs.

Dynamic voltage and frequency scaling is effective for low-power VLSI design. Body or back bias can provide additional control over leakage and performance.

We are moving towards a "continuum of compute", ARM CEO Simon Segars said at CDNLive Silicon Valley, a trend that will reshape design.

Compliance with aviation's hardware design standard is seen as a 'tough ask', but EDA's own evolution has made that process easier than you may think.

Designers working on automotive ICs, to be built on established processes, can benefit from the power of design tools developed for advanced processes.