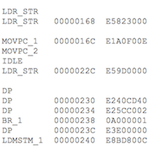 We look at how best to leverage both software debug tools and emulators, the limitations to traditional techniques, and the drive toward offline debug.
The 20nm node can offer power, performance and area advantages, but making these gains takes a deep understanding of the interactions between process and design.

Parasitic extraction reveals the impact of implementation on the theoretical performance of IC designs.

Dynamic voltage and frequency scaling is effective for low-power VLSI design. Body or back bias can provide additional control over leakage and performance.

The argument for an integrated approach to SoC verification

How Wall Street's vastly resourced IT teams already point the way to cheaper, faster and more efficient verification by putting goals not tools first.

ProtoCompiler understands HAPS FPGA prototyping hardware, so it can optimize logic placement and partitioning, even on designs with up to 250m ASIC gates.