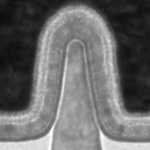 How EDA tools are evolving to make it possible to design with finFET processes.
The 20nm node can offer power, performance and area advantages, but making these gains takes a deep understanding of the interactions between process and design.

Parasitic extraction reveals the impact of implementation on the theoretical performance of IC designs.

Dynamic voltage and frequency scaling is effective for low-power VLSI design. Body or back bias can provide additional control over leakage and performance.

Moving to a finFET process means considering process readiness, cost and yield, as well as the traditional power, performance and area advantages

Sign-off lithography verification is vital as we move beyond double to multi-patterning but changing responsibilities in the flow must be handed with care.

FinFET and 3DIC technologies bring with them not just higher performance but an increased need for accurate parasitic analysis.