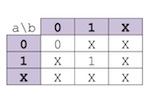 Catching x-propagation issues at RTL saves time and reduces uncertainty in gate-level verification
In a standing-room-only talk at the recent DesignCon conference, Eric Bogatin explained why comedian Henny Youngman could help them with signal integrity on PCBs.

The next boost to verification productivity will come from the integration of multiple strategies and tools.

Increasingly complex state machines are driving the need for smarter ways of reporting errors such as deadlocks and unreachable code in the source RTL.