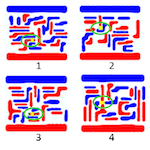 A new technique has been developed to catch potential new lithography issues when little design data is available for incoming nodes.
Accellera's Portable Stimulus standard aims to improve verification efficiency and the reuse of test IP across the entire design life cycle.

FinFETs present a number of problems with respect to dynamic power consumption. Design techniques are being re-evaluated to deal with the issue.

Monolithic 3DIC integration may provide a viable alternative to conventional 2D scaling for SoCs if manufacturing problems can be overcome.

Why is formal verification not getting the traction it should. The good doctor has some thoughts on that... and a new solution.

Using specialised processors to implement key AI computation tasks such as CNNs.

If we thought about verfication-for-security in a different way, the Spectre and Meltdown vulnerabilities could well have been avoided.