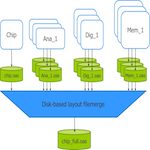 How to achieve efficient merging of data from formats such as OASIS, GDS, and OpenAccess to ensure timely verification through DRC runs.
Accellera's Portable Stimulus standard aims to improve verification efficiency and the reuse of test IP across the entire design life cycle.

FinFETs present a number of problems with respect to dynamic power consumption. Design techniques are being re-evaluated to deal with the issue.

Monolithic 3DIC integration may provide a viable alternative to conventional 2D scaling for SoCs if manufacturing problems can be overcome.

The second part of this feature looks at how Wave Computing's objectives with its dataflow processing unit for AI mapped to the use of emulation in its development.

An increasing number of AI players are building their own silicon and finding that emulation is key to overcoming the major challenges.

Escape formal's narrower definitions with a flow that shows you how to Avoid, Detect, Erase, Prove Absence and Tape Out while avoiding bugs.