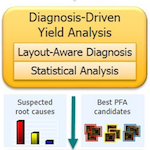 Diagnosis-driven yield analysis identifies the cause of systematic yield loss to speed the ramp-to-volume on new processes and improve yield on mature ones.
Accellera's Portable Stimulus standard aims to improve verification efficiency and the reuse of test IP across the entire design life cycle.

FinFETs present a number of problems with respect to dynamic power consumption. Design techniques are being re-evaluated to deal with the issue.

Monolithic 3DIC integration may provide a viable alternative to conventional 2D scaling for SoCs if manufacturing problems can be overcome.

Doc Formal concludes his introduction to formal verification with a practitioner's view of the technology.

Using VESA's Display Stream Compression (DSC) standard to enable visually lossless performance and low latency for ultra-high-definition displays.

Doc Formal begins a two-part series by describing the solid and well-established foundations of formal verification.