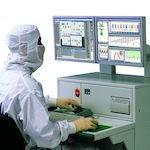 The equipment giant's Computational Process Control strategy takes a pragmatic approach to Industry 4.0 and is likely to influence EDA tools for incoming nodes.
Parasitic extraction reveals the impact of implementation on the theoretical performance of IC designs.

Monolithic 3DIC integration may provide a viable alternative to conventional 2D scaling for SoCs if manufacturing problems can be overcome.

A static-analysis tool that checks for errors in HDL code, lint is becoming an increasingly important addition to simulation for RTL and SoC signoff.

DVCon China general chair Andy Liu discusses Accellera's new addition to its design and verification conference series (简体中文).

Successful FPV of large designs requires that parts of the design are abstracted. Learning how and where to apply abstractions will result in more proven properties and more bugs found.

Addressing the challenge of achieving ASIL D certification of the functional safety of an SoC for use in the safety-critical path of an automotive system.