Internet of Things: an opportunity, but for whom?
A panel discussion at last week's Design Automation Conference revealed the scope of the opportunity that widespread uptake of connected devices (the Internet of Things or IoT) could bring, and the complexity involved in making it happen.
Jim Feldman of Semico Research opened the Synopsys/GlobalFoundries panel by asserting that the number of connected devices in 2018 will exceed the installed base of mobile phones.
He added that there are multiple opportunities to sell IoT devices, such as in lighting control using power over Ethernet, the connected home, where he forecast 23 billion residential appliances in 10 years, medical, smart cities, consumer wearables, industrial automation, and the enterprise.
"There are no barriers to entry at the moment," he said, adding that the factors necessary for the sector to take off include low cost, effective sensors, embedded processing and interoperability.
"We are still waiting for a killer app that people say 'I absolutely have to have', which will create the hockey stick," of sectoral growth that analysts are predicting.
Internet of things: same old same old?
Terry O'Shea, distinguished architect at HP, sounded a more cautious note, reflecting that he had been involved with IoT for the past 18 years: "It began as telemetry, became wireless sensor networks and then ubicom."
O'Shea says HP's role in the sector is to pull everything together: "As a system integrator, what you really need to do is have blocks you can grab and put them together.
"The sooner I can put these things together, the sooner my cloud grows and the sooner I can start making money."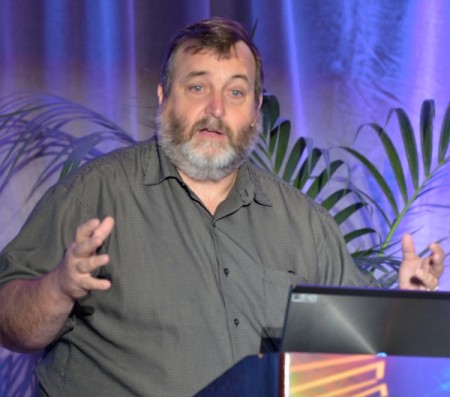 Image Terry O'Shea: The sooner I can put these things together, the sooner I start making money
For semiconductor makers, and the tools vendors that serve them, O'Shea's advice was blunt: "The market characteristic here is that it is not all about the device."
There may not be that many customers for IoT devices either: "The customer is often not the end user: it's a reseller."
"What do I need as a system integrator? An integrated set of tools across the value chain from device to cloud."
He cited the need for consistent security, and added: "Standards are not the issue – we have enough."
Lower power sensors and RF sections are vital: "The sensors are what really drives the power – it's the top of the Pareto ranking.
"We can produce a large number of devices and stick them all around the world, but who is going to change their batteries?"
It's clear why HP is interested in a role as system integrator for the IoT. O'Shea described a project in Brazil to replace number plates with a wireless tag transmitting car IDs to sensors picked up on overhead gantries.
"The chip on board was doing 428bit AES encryption keys, and being read 100 foot from the gantry from a car passing it at 100 miles an hour."
The numberplate tags went into 30 million cars. Brazil had to install 400 provisioning systems to get the tags into the field, and then installed 6000 gantries, each with a server, to track them. Oil company Petrobras went on to add readers at its petrol stations.
"IoT devices are out there and are working," said O'Shea.
The semiconductor opportunity
VK Raman, vice president of engineering at Broadcom, gave one chip vendor's view, starting with a claim that by 2019 there will be 5.6 billion smart phones in use in the world and approximately 30bn IoT devices.
The devices will need to be addressable, secure, scalable, and easy and reliable to use.
"The device is simple but the ecosystem is very, very complex," he added. "These have to be very cost-effective devices because the ASP isn't $30, it's more like one dollar."
IoT devices will have to be built on low-cost processes incorporating technologies such as poor man's flash. Raman also said that FD-SOI processes could play a strong role, in part for the their analog and RF performance.
Without common standards, Broadcom has gone ahead and developed a pair of protocols for wirelessly addressing embedded devices: WICED WiFi – wireless interconnect embedded devices over Wi-Fi; and WiCED Smart, the same thing but over Bluetooth.
John Koeter, vice president of marketing in the solutions group at Synopsys, said: "We're going to see a creative boom over the next five years," listing some of the more unexpected IoT products currently being developed, such as a 'smart' blanket for monitoring babies, and 'connected slippers', including low-energy Bluetooth, accelerometers and sensors, for tracking the shuffling gait of the elderly.
"They are examples of the creativity that the ecosystem can enable," Koeter said.
He noted that Synopsys has a library of IP that could be used in an IoT device, such as processor cores, memories on ultrahigh-density track libraries and/or reduced layers, as well as interfaces, analogue blocks and non-volatile memories.
Synopsys also offers a sensor subsystem IP block (pictured), which can be implemented in 0.01 mm² in a 28nm process, and consumes 4µW per megahertz.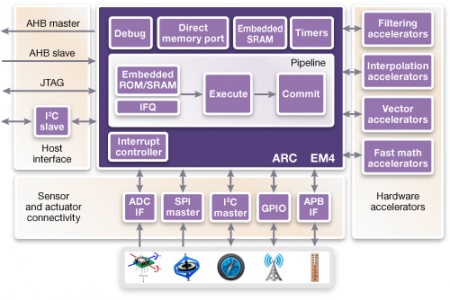 Image Synopsys' sensor subsystem IP block diagram
Subi Kengari, vice president, advanced technology architectures, GlobalFoundries, pointed out that silicon is technology is critical to the IoT, but that foundries remain pretty much at the bottom of the value chain.
He also called for more work on standards.
"If there are no standards it won't be the Internet of Things: it'll just be things," he said.
The silicon challenge is quite large, Kengari continued.
"When you talk of heterogenous functions being integrated you need a wide range technologies," he said. "it won't be cost per transistor [that drives the industry] in future, it will be cost per function that becomes very important."
The IoT ecosystem
And he pointed out that making the IoT happen will rely on a rich web of relationships.
"What is an ecosystem if it is not open? If someone wants to try to control everything the whole thing will die," he said.
The question and answer session at the end of the panel brought home some stark truths. 
Asked who will make money and who will get displaced by the IoT, O-Shea of HP argued that "storing, managing and analysing data is where most of the value chain resides."
He gave the example of a home alarm service provided by ADT, in which 15% of the cost is represented by hardware but 40% by managing the data and dealing with false positives.
Koeter at Synopsys said he though that the IoT will be additive to the semiconductor industry.
Kengari at GlobalFoundries pointed out that the global $350bn semiconductor market enables $85 trillion of other business, but "we already have the precedent set that we don't make money."
The great hope of the emerging IoT market is that it can provide semiconductor vendors and the tools companies who service them with a way to increase their volumes as well as moving up the value chain, perhaps by incorporating large amounts of high-value IP.
Kengari argued that the use of IP is increasingly important to meet time to market needs, and that being proven in silicon and of high quality is also important.
Koeter at Synopsys said that IoT clients will use a lot of established technology, but that their design can also benefit from the latest tools, for example a better place and route tool that can enable you to make a chip with fewer metal layers, saving costs given that each metal layer is worth 7 to 10% of the cost of an IC.
Security and more
Asked about the importance of security, Feldman at Semico reiterated his belief that interoperability between different manufacturers will be vital to the IoT and that security is a real key to that.
"Everyone says they have had security for the past 30 years but that is not the security we need for the next 5 to 10 years," he said. "In our interviewing everyone has a piece of security but they end up passing the problem along to a Broadcom or HP to put the whole thing together."
O'Shea made a larger point, about trust and usability for IoT devices: "A lot of the issue we see at the system level is that we see a tremendous number of false-positives, which breaks down trust in the whole system."
He raised another issue about the ecosystem that could provide another stumbling block to the widespread uptake of IoT devices – net neutrality.
"When ISPs start becoming systems integrators we at HP are back down to being an IT supplier, because they can block the channel," he said.
Koeter at Synopsys added that building the IoT "is going to be something which will take a decade to get our arms around."