CDNLive EMEA: Embedded processors could surge past mobile at ARM in a few years
ARM could see shipments of embedded processors based on its architecture begin to outpace its rump market in mobile within four years if growth continues at current levels. In the past four years, quarterly shipments of ARM-based embedded processors have risen from less than 150,000 to more than 600,000.
ARM-based mobile processor shipments continue to provide more than half of the total shipments, but that share has fallen from 64 per cent in 3Q09, when ARM started to break out shipment numbers to 52 per cent in 1Q13. In 3Q12, the share had dropped to 50 per cent. The strong seasonal dependence of mobile phone shipments means the proportion of ARM's sales into the sector climbs strongly in the fourth and first quarters of the year after a third-quarter slowdown or dip.
However, as annual mobile-chip shipments now exceed 60 per cent of the global population, they could easily plateau in a few years if they are not close to that point already – roughly 4.5 billion mobile chips were shipped in both 2011 and 2012, following a growth of more than 20 per cent over 2010.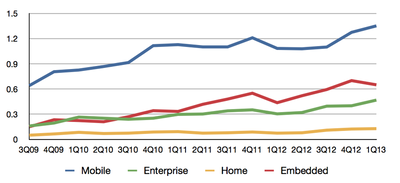 Graph Quarterly shipments of chips with ARM processors to mobile and other sectors (units, billions)
In his keynote speech at CDNLive EMEA 2013, ARM embedded-processors vice president Keith Clarke, said: "Eight point seven billion chips shipped in 2012 with ARM processors inside. Of those, 2.2 billion were embedded processors. That number doubled in two years and more than doubled over the previous two years. We see that growth continuing."
ARM is pinning a lot of its hopes on the Internet of Things or, as Clarke said the company prefers: "connected intelligence". He argued that in a world where green concerns are coming to the fore, "connected intelligence is critical".
"We will connect the previously unconnected. Even to something as simple as the street lamp you can add connected intelligence, and make the street lamp more efficient by only turning it on when it needs to," Clarke said. "Every device will need some sort of connection."
Clarke said one aspect of that is a collaboration with cellular service provider Vodafone. "We are looking to build a platform for machine-to-machine communications to give you quick access to a working system."
Clarke also pointed to ARM's role in white-space radio: "There is an opportunity here for a bit of innovation. The Weightless Special Interest Group has some special technology here. It supports a range of up to 10km with the low power you get with Bluetooth with very low-cost silicon. And it was designed for machine-to-machine communications."
At the other end of the scale, ARM is working with Cadence to bring engineers with limited experience of microprocessor-based control into the 32bit world. He described a tool built on top of Verilog-AMS. "It is for designers who are very familiar with analog but less familiar with digital. They want to upgrade from a 8051 or similar microcontroller to something more capable. Very often, they are going to a Cortex-M0. We have put together this example system that shows you how you can simulate analog with digital in the same environment," said Clarke.