Synopsys speeds automotive SoC qualification with IP launch
Synopsys is trying to speed up the development of automotive SoCs by releasing IP that meets key automotive standards, has been developed using approved quality-management techniques, and is proven in silicon.
According to Jai Durgan, group director, field applications marketing, solutions group, Synopsys, interest in the automotive sector is growing as other markets are maturing. The introduction of vision systems, advanced driver assistance systems (ADAS), sensor fusion techniques and electric vehicles offers a new innovation opportunity.
Some of these applications, such as vision processing, demand multicore, multigigahertz SoCs. This is attracting mobile SoC vendors, such as Qualcomm and nVidia, which are adapting and enhancing their devices with new algorithms for tasks such as vehicle sensor fusion.
Synopsys' response is to develop a portfolio of ASIL B ready IP, and invest in AEC-Q100 testing and TS 16949 quality-management techniques.
To break this down a bit:
ASIL is the Automotive Safety Integrity Level, part of the ISO 26262 functional safety standard that addresses possible hazards caused by the malfunctioning of electronic systems in automobiles. ASIL is specified in four levels, from least stringent at A to most stringent at D. Synopsys is having its ASIL B Ready IP qualified by SGS TÜV, an independent industry auditor.
AEC-Q100 is an industry-standard set of stress tests for qualifying automotive SoCs. Testing automotive IP to AEC-Q 100 standard should cut the time and risk involved in qualifying an overall SoC to the AEC-Q 100 standard.
The TS 16949 quality-management standard identifies risks in product-development processes. Synopsys is enhancing its IP development processes by implementing the policies, processes and resources needed for designers to meet TS 16949 requirements.
The first products to meet the ASIL B Ready requirements include DesignWare Ethernet AVB, LPDDR4 and embedded memory IP. They are delivered with safety packages including a complete set of ISO 26262 certified safety plans, manuals, guidelines, and safety reports such as Failure Modes Effects and Diagnostics Analysis (FMEDA) reports so designers can more easily show their automotive SoCs comply with the standard.
Other DesignWare IP for automotive applications includes LPDDR4, MIPI CSI-2 and DSI, HDMI, PCI Express, USB, mobile storage, logic libraries, embedded memories, NVM, and data converters. Synopsys is also offering the ARC EM processors with Safety Enhancement Package (SEP) and ASIL D Ready ARC MetaWare Compiler; EV vision processors; and the Sensor and Control IP Subsystem.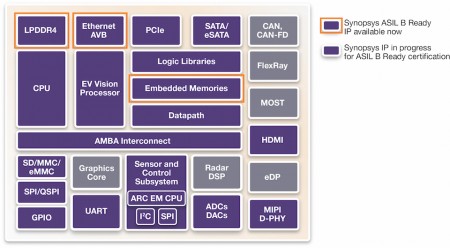 Figure 1 Diagram shows the increasing overlap between the building blocks of consumer and automotive SoCs (Source: Synopsys)
"Functional safety, represented by ASIL B Ready certification, is crucial for new automotive applications such as ADAS," said Wolfgang Ruf, product manager at SGS-TUV. "Meeting ISO standards is key to demonstrating that an SoC, including its IP components, delivers enhanced processes for functional safety."
John Koeter, vice president of marketing for IP and prototyping at Synopsys. "Our rich portfolio of DesignWare IP meets key automotive functional safety requirements today. We will continue to make significant investments in additional areas such as AEC-Q100 and TS 16949 to provide designers with a broad portfolio of trusted IP solutions."
Find out more here.