Japan one year on: a need to rebuild exposed?
The 2011 Japanese earthquake exposed a systemic and previously-established decline in the country's position in the semiconductor industry, according to a note issued today (March 20) by analysts at IHS (formerly iSuppli).
The combined share of the global chip market held by Japan's electronics giants fell from 27% in 2003 to 19% last year. At the same time, an anticipated massive supply chain crunch after the earthquake failed to materialize, with inventory generally coping with disruptions to manufacturing.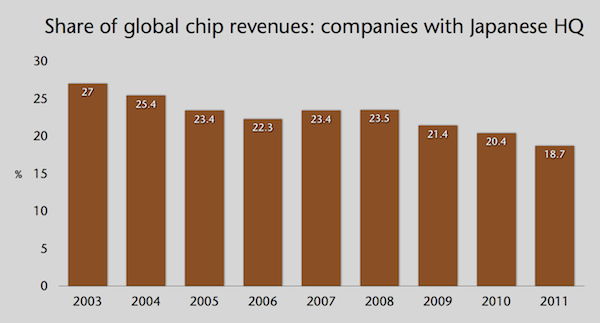 Figure 1
Japan's share of global chip revenues as assessed in USD (Source: IHS – click image to enlarge)
"The limited impact of the 'quake on the global semiconductor industry dramatically illustrated Japan's diminished status in the worldwide chip hierarchy and underscored the pressing need for the country to revitalize its business in this area," said Len Jelinek, director and chief analyst for semiconductor manufacturing at IHS.
IHS points out that Japan has the smallest number of 300mm wafer fabs of any of the major regions, and the largest number of mature 6-inch ones. Beyond that, the company also has no local mass-production site working at the 28nm process node.
"History has shown that success is driven by experience," the note says. "Without a strong technical platform on which to gain experience and move forward, there is little chance of the country achieving the transition to sub-28nm production."
The IHS analysis is also dismissive of a plan announced in February to regenerate Japanese chip manufacturing by consolidating fab operations across those of three companies: Renesas, Fujitsu and Panasonic.
"The plan separates out design and manufacturing into two different companies," IHS says. "Furthermore, the proposal calls for a large capital injection to revitalize the manufacturing company.
"Sadly, the plan is really a well-disguised roadmap for significant reduction in semiconductor manufacturing."
IHS' observation about the dollar value of Japanese companies' sales does make its broader comments sting, but there may be several other factors at play here.
In terms of bleeding edge design, Sony is firing up its engines to develop the next generation PlayStation using both advanced nodes and emerging techniques such as thru-silicon via. Other major players from Japan continue to compete strongly in both analog and microcontroller markets where innovation is not always dependent on the latest process.
Nor should we forget that two Japanese companies – NEC and Toshiba – are members of the International Semiconductor Development Alliance, which is looking to share the astronomical costs of process development at the most advanced nodes.
But ultimately, many of Japan's giants may simply be finding – as have their US counterparts – that the legacy costs built into domestic manufacturing make it ever harder to compete with other emerging and increasingly fab-rich markets in Asia.
Nevertheless, IHS' point about the need today to be close to manufacturing innovation to secure broader and continuing technological advantages is well made.