Cadence expands system analysis to thermal
Cadence Design Systems has followed its launched of a parallelizable EM simulator with one that focuses on the thermal behavior of ICs through to multi-PCB assemblies.
With Celsius, the EDA supplier provides a number of ways to simulate heat build-up dissipation in the form of a toolkit. The company expects the simulation engines to be combined in different ways depending on the scale and focus of the thermal simulation. For example, simulation of a 3DIC inside its package may use a layered-2D mesh while larger simulations of PCBs and assemblies apply combinations of finite-element analysis and computational fluid dynamics based on a finite-volume analysis engine.
CT Kao, software engineering director in Cadence's Sigrity group, said a key addition to the toolkit available to designers worried about thermal performance is support for transient analysis. The tool determines how the thermal profile of the design changes over time as a design shifts from one state to another.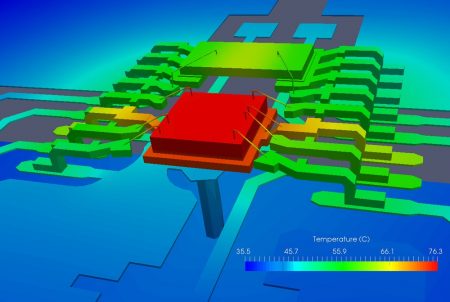 Image Celsius used on a multi-die package
Although Cadence refers to the Celsius tool as an electrical-thermal cosimulation environment, the electrical part of the simulation is contained within the tool itself rather than operating in concert with a conventional electrical simulator. The electrical element is used to help analyze effects such as Joule heating in thin wires. The tool reads in electrical information from a variety of Cadence tools, including Virtuoso and Allegro. The richest interface is with the power-profiling tool Voltus as this provides Celsius with information on how power is used within each device on which it has been used. If Voltus is not available, users can supply connectivity information from a tool like Virtuoso and combine that with tables generated from another power-modeling tool to give Celsius the electrical data it needs.
Cadence claims the use of parallelism can deliver a tenfold improvement in simulation performance by taking advantage of many more processor cores than are available with what Kao called legacy solutions. The thermal simulation employs the same parallelized matrix-solver technology as that employed in the prior Clarity 3D EM and Voltus tools.