ROHM eases component choice by offering cloud simulation and collaboration environment
A Japanese component supplier is making it easier for its customers to choose the right parts for their designs by offering a powerful analog and mixed-signal (AMS) simulation environment through its website.
ROHM has chosen to deploy the tools using the SystemVision Cloud offering of Mentor, a Siemens business. The resultant ROHM Solution Simulator handles SPICE models in the same way as the simulator that ROHM designers use to develop the components, ensuring consistency between online results and component performance. The ROHM Solution Simulator also supports VHDL-AMS models, which is useful for markets such as automotive design in which more abstract modeling languages are becoming increasingly important.
Offering this powerful simulator through ROHM's component selection website also means that ROHM doesn't have to try to support and maintain consistent results among multiple slightly different SPICE modeling and simulation environments. The VHDL-AMS support enables customers to model more than just electrical performance, for example thermal behaviour, which can create particular trouble spots for automotive designers.
"Now we can focus on maintaining a single, standardized set of device models and reference circuits," says Kunihiro Komiya, manager of analog power application department at ROHM.
The fact that the ROHM Solution Simulator is implemented through Mentor's SystemVision Cloud offering also makes it easy to transfer validated circuit designs and component choices into a PCB design environment. Customers can also get direct online support from ROHM by transfer their designs into personal SystemVision Cloud accounts, or into collaboration groups sponsored by ROHM on the SystemVision site. This then means that they can collaborate directly and privately with ROHM engineers online, to iterate and optimise their designs. This speeds up the design process for customers, while enabling ROHM's design support staff to be deployed more efficiently.
"With SystemVision's online collaboration features, we can amplify our customer engagement at a fraction of the cost of onsite visits," added Komiya.
ROHM chose the SystemVision Cloud platform from Mentor because it was the only offering that supported features including:
A multi-domain simulator that supports model-based development
Support for SPICE and VHDL-AMS models
Straightforward expansion to thermal simulation
ROHM customer cloud simulation hosted on ROHM's website
Cost-effective, self-service registration of ROHM components as SystemVision libraries
Backing from the Society of Automotive Engineers of Japan, Inc., supporting ROHM's strategy to focus on the automotive market
Accelerated simulation using highly abstract models, especially important when simulating a solution circuit with multiple ROHM components
"We chose Mentor's SystemVision Cloud platform because it is the only solution that meets all of our requirements," said Ippei Yasutake, group leader of analog power application department at ROHM.
The ROHM Solution Simulator has been introduced due to increasing demand among the company's automotive and Tier 1 customers for better ways to do the functional verification and analysis necessary to ensure the time-to-market, quality, reliability, and safety requirements of the circuits and models they develop using model-based design.
Simulation is an important part of model-based design, because it reduces the time it takes to choose a component and to check its performance in a circuit for fundamental or potential issues before physical prototyping. Simulation can also help speed up PCB prototyping and evaluation.
Importantly for ROHM's automotive customers, the SystemVision Cloud simulator can handle not only electric circuits but also mechanical and thermal circuit models. Its user interface supports circuit-diagram creation, graphical waveform display, and the use of fixed-topology circuits with adjustable component choices that can be simulated on the ROHM website.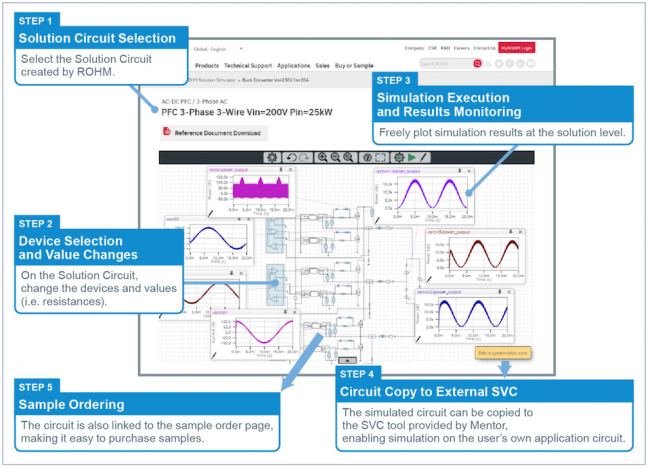 Figure 1 Key features of the ROHM Solution Simulator's user interface, enabled by Mentor's SystemVision Cloud
"SystemVision enabled us to quickly deliver our high-quality, cloud- based simulation environment," said Makoto Terada, group leader of analog power application department at ROHM.
The ROHM Solution Simulator can handle power devices and driver ICs at the same time, making it possible to quickly and easily validate ICs along with power devices under close-to-actual conditions.
"This platform enables customers to simulate power devices, driver ICs, and power supply ICs on a solution circuit together," said Komiya.
ROHM plans to continue to add solution circuits and products, including models for thermal simulation, to the component libraries supported by the ROHM Solution Simulator and SystemVision Cloud platforms.
"We are going to increase our circuit lineup so that we can provide even more customer value, and we already see more customers making more use of SystemVision and our ROHM Solution Simulator as they run simulations again and again by changing component values," said Yasutake. "Most importantly, we believe we will achieve a reduction in customer circuit verification time and circuit design errors."