Space camera project uses rapid development for test
UK-based RAL Space has picked up an award from National Instruments for a system the organization built to test a pair of cameras ahead of being being deployed on the International Space Station to photograph the Earth from orbit.
Mike Salter, electronic design engineer at RAL Space, used a combination of PXI hardware and Labview from NI to streamline development of the test system and then repurpose it for thermal-cycling tests. NI UK presented one of its Engineering Impact Awards, for electronic test and measurement, at an event in London in early November.
"We were on a really a tight development schedule. It was two to three years overall, which for a space mission is very tight. We needed a solution that didn't divert too much engineering attention away and we ended up using NI equipment," said Salter. "The key benefit is that we weren't having to develop hardware: that's what takes the time. We needed to capture data from the camera and get it into PC. LabView gave us this ability."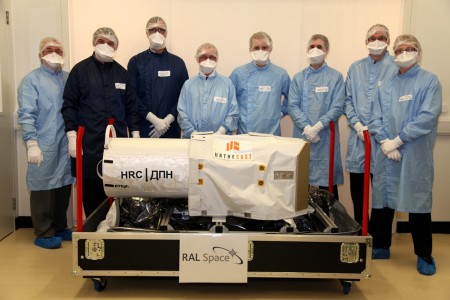 Image The RAL engineering team with the Urthecast camera module
The camera RAL Space was built for a service devised by Canadian company Urthecast to take stills and short videos of locations on the planet from orbit. "But they had no experience of building space-camera systems. We did," said Salter.
There are two cameras now on the ISS. One is a medium-resolution camera that uses a "push broom" sensor, much like that in a flatbed scanner that surveys the ground directly underneath. It works alongside a high-resolution 2D camera. "It's mounted on a pointing platform so it can track as it fills a 90-second clip. Using it, Urthecast could provide unique perspective on events as well as quickly photograph disasters," Salter explained.
"The medium-resolution camera came from a previous systems we had produced. But the high-resolution camera was much more bespoke. We were primarily responsible for the front-end electronics, which would then output a data stream that's picked up by a system developed by another company. We didn't have the data-handling capability of that system inhouse. So we needed a test system that didn't divert much attention from the main project."
The high-resolution camera could not use a standard interface. "The space-based protocols weren't able to handle the data rate. SpaceWire, for example, tends to top out around 200Mb/s. This tops out at 800Mb/s," said Salter. "We used LVDS signals on a parallel interface."
Because the signals could be captured by an FPGA programmed using LabView, Salter said the test system just needed "minimal connector work" to be able to take in real-time camera data. The connectors were mounted on a custom caughterboard. The rest of the development focused on capturing and manipulating the data. "There are flags in the data stream that indicate when new frames and lines start. You need to be able to separate out images or you are into gigabytes very quickly," Salter said.
Once the camera design was proven, the test system was then adjusted to perform new tasks. "It was a classic example of changing project requirements. We had some connectors that were mounted in slightly unusual ways. The cosmonaut had to plug the camera in while in space. The Russians specified that we have to use these special connectors. We left the cosmonauts with just three of these big connectors to plug in.
"We had to be able to determine that the design would survive the thermal cycles of space," said Salter. "Prior to Labview we would have to get the device out at the end of each cycle and test it. But with Labview, we could test it continuously while it underwent thermal cycling."
The camera does not have to face the extremes of space as the installation has both heaters and radiators to moderate temperature swings. But even so, it can shift from -20 to +50°C as the ISS moves in and out of the glare of the sun. Plugged in earlier in the year, the camera is now undergoing qualification tests, so the LabView-based system is now being redeployed for other tasks.
"We are now looking at using the NI equipment to monitor solder joints. There are a host of different things that we've been looking at," Salter said.