DATE: Silicon Europe plans to build cluster of clusters
Four European centers for electronics research and business development have set up a project to try to create a virtual "silicon cluster" that aims ultimately to build a worldwide development network for energy-efficient systems.
Gerhard Kessler, project manager at Silicon Saxony Management, said in a meeting of the four groups at the DATE conference in Grenoble, France: "The partners are linked by a common goal, to create the world's leading center for high-efficiency electronics. We want to secure European knowhow for Europeans. We want to open up new markets and create new opportunities for SMEs."
Fabien Boulanger, director of micro- and nano-technologies, said: "The cluster can be much more visible on a European scale, making it possible to go for more projects."
"We have invited other clusters to take part. We are in the process of adding other clusters as invited members but the core activity is done by these four groups," Kessler said. Any groups joining later will need to provide their own funding as the EU money is only provided for the four founding members.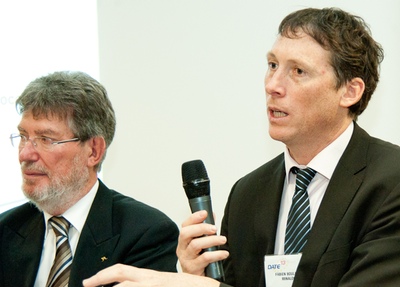 Pictured Gerhard Kessler and Fabien Boulanger at DATE
The four groups involved in the three-year Framework Program 7 project are: Silicon Saxony, centred on Dresden, Germany; Minalogic in Grenoble, France; DSP Valley of Belgium; and High Tech NL from The Netherlands.
Kessler said the project got the go-ahead from the European Commission after Minalogic and Silicon Saxony started to co-operate more closely three years ago. The regional developement directorate general (DG Regio) said it would back a project where "at least four regions would have to work together", Kessler explained.
"The whole thing came together at very short notice and only because Dresden and Grenoble were already close. They had connections to Holland and Belgium," said Kessler. "The EU also wanted to make sure the bigger clusters were involved."
Véronique Pequignat, manager of business investment at Grenoble region development agency AEPI, said: "It was definitelty a bottom up approach and it had to be in regions where research education and local gov were partnering together."
Kessler added: "For me, I was longing for such kind of co-operation for 20, 30 years, when I asked myself 'why don't the regions work together?' But then they were rich and nobody thought about it. The situation has changed. We have to learn to co-operate."