Flexible PCB stretches across UAV's wings for lower weight
UK-based Trackwise has shipped what could easily be the longest ever flexible printed circuit board (PCB). The 26m-long PCB will deliver power and control across the wings of a solar-powered unmanned aerial vehicle (UAV).
Trackwise said the wing's flexible PCB is one of more than 50 the fabricator is supplying for this UAV project. The entire interconnect system, carrying both power and signal traces, of the vehicle is made from flexible PCBs. The approach, the company claimed has delivered a weight saving of more than 60 percent over traditional wire harnesses. This will enable the UAV, which is being manufactured in the US, to carry higher payloads or extend the UAV's range and maximum speed.
Trackwise used the company's patented reel-to-reel manufacturing technique, called Improved Harness Technology (IHT) to make each of the PCBs, which made it possible to overcome the normal restriction on length of around 2m for a conventional process.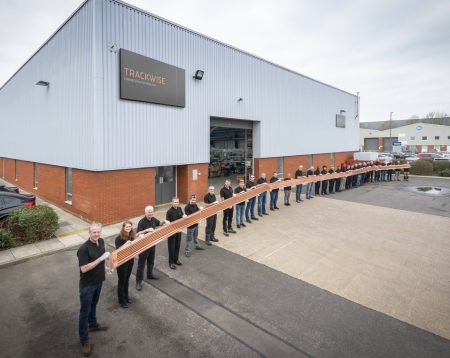 Image Trackwise staff show the 26m-long flexible PCB for a UAV
Trackwise CEO Philip Johnston said: "There are many new applications emerging for long, lightweight FPCs but aerospace is a natural fit: weight savings, high reliability and cost effectiveness are critical. We're also seeing growing interest from a variety of sectors including medical and automotive. For the latter, manufacturers are challenged to reduce vehicle weight to improve fuel efficiency at a time when there's an ever-growing array of electrical and electronic circuits in their vehicles. In particular, electric vehicles are accelerating this trend."
The UAV's flexible circuit is based on a polyimide substrate. Trackwise claims the planar structure of the circuit dissipates heat better than conventional wiring, enabling higher current carrying capacity for a given weight of copper conductor. The company also argues the PCB-based ciruitry is easier to install than wire harnesses, reducing a vehicle's assembly time and cost.