Mentor seeks component data in PCB design tie-up with Digi-Key
Efforts to reduce errors in PCB layout caused by entering the wrong component data have led to distributor Digi-Key becoming the supplier of low-cost design-capture and layout tools developed by Mentor Graphics. The Designer Schematic is intended to widen the reach of Mentor's PCB design tools to smaller companies and tiger teams developing novel products outside the normal corporate framework.
Randall Restle, applications engineering director at Digi-Key, said: "We can help Mentor identify tomorrow's customers."
The schematic tool, which is in beta until late summer, is likely to go on sale for less than $300. A version that extends to layout will sell for around $1000 per year. Rather than opt to provide a free tool in the way that Element 14 and RS Components have, Digi-Key and Mentor decided to offer one that would provide compatibility with a widely used tool family – in this case the PADS lineup from Mentor so that users can migrate more easily or pass schematics to a design bureau for layout.
"I don't know many people who have standardized on LibreOffice," said Restle. "We've standardized on a product you can count on, where you can count on further development."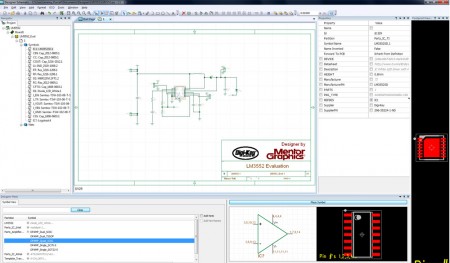 Image Screenshot from Designer Schematic (Source: Mentor/Digi-Key)
Dave Brady, business development manager at Mentor Graphics, said: "PADS has been in the marketplace for thirty-something years. It has probably helped create hundreds of thousands of designs. From Designer, customers can easily transition to PADS and maybe to our enterprise-class product, Expedition. The fundamental technology of Designer is PADS."
As well as very young startups, Mentor and Digi-Key expect to find users working on innovative products outside the normal corporate environment. "Our enterprise customers strongly discourage the use of new [unapproved] parts. Mess up on one element such as the footprint, and it can disrupt an entire product."
As product selection is often enforced with the help of enterprise PCB tools, a tiger team with a mandate to try more experimental approaches can make use of Designer to get up and running quickly and "buy outside the approved parts list", said Brady. "Digi-Key has the latest parts and adds them before anyone else. And they have an order of magnitude more information."
Restle added: "We maintain our own data and we normalize it. If you search for a red LED, you can select parts that emit at 650nm or another dominant wavelength."
Wider access to data
The joint effort will lead to other tools in the Mentor family gaining better access to component data through Digi-Key.
Dave Brady, business development manager at Mentor Graphics, said: "Five years ago I started to figure out how to get component information into Mentor tools automatically, to eliminate errors such as entering the wrong . component footprint. We were experimenting with web services interfaces. During that process we engaged with Digi-Key and saw the opportunity to deliver a mass-market, professional design tool and target users that Mentor had not gone after.
Brady added: "Our customers gain access to Digi-Key data through this effort. Using those web services we can transform the parametric data they have to EDA symbols and footprints."
Restle said: "Mentor was a teaching customer on what we needed to provide."
To find and obtain the parts data, engineers use the Partsquest.com website. Brady said: "You send parts to the Designer sandbox. You then go into the sandbox and select one or more parts. From there you can choose the symbols and footprint."
Brady said continuing work will bring in 'golden' data from components suppliers that can be accessed through the Digi-Key web-services interface. "We don't intend the data from Digi-Key to be available to just Designer customers. It will be made available to PADS and Expedition. That will take a little longer. PADS by the end of the summer and Expedition by the end of the year.
Beta program
The Designer tool itself will be sold by Digi-Key, which has set up online documentation using a wiki. Beta access up to release is free as Mentor refines the tool.
"We invested a whole year in just doing the out-of-the-box user experience. Our objective was so that you don't have to read the documentation. We do things such as mouseovers over commands, showing you how to use them. In PADS there were 19 ways to do the same thing. In Designer there is one clear way," said Brady.
To further simplify the user interface, Mentor has opted for a flat structure for the schematic rather than offering a hierarchy. "Hierarchy is used by FPGA guys but it's rarely employed in PCBs. We found that our hierarchy features were complicating things. But we are open to feedback on that topic. That's why we are running the beta."
Restle said: "I don't know any other CAD tool that's been through so much testing. Mentor's concern that it should be right is why we are undergoing this."