Arm shows off biggest flex processor so far
Arm and flexible-electronics specialist PragmatIC have demonstrated a 32bit processor implemented on a polymer substrate. Though work on thin-film microprocessors for glass and flexible substrates dates back more than 15 years, the work marks a jump in the complexity of the circuitry that has been used in a printed design.
Since 2005, when a team from Seiko Epson adapted the polysilicon thin-film transistors (TFTs) originally used for displays to create a processor on a glass substrate, the focus has shifted to the use of metal-oxide chemistries because they are easier to process at the low temperatures needed for flexible, plastic substrates. In 2020, the ARM and PragmatIC team used 0.8µm channel-length TFTs made using indium gallium zinc oxide (IGZO), which has become a relatively common element in thin-film and printed-electronics research, to implement a simple machine-learning processor. Deposited onto a polyimide substrate that is less than 15µm thick, the FlexIC, incorporating around a thousand logic gates, could be bent with a radius of curvature down to 5mm without damage.
The latest implementation executes a subset of instructions the relatively simple Arm Cortex M0+ processor and it uses only n-type transistors rather than complementary logic. But this still requires more than 18,000 logic gates. The resulting chip incorporates almost 40,000 transistors and just over 17,000 resistor elements in an area of 9 x 9mm, around ten times larger than the FlexIC. The device ran programs encoded into a small ROM that forms part of the design.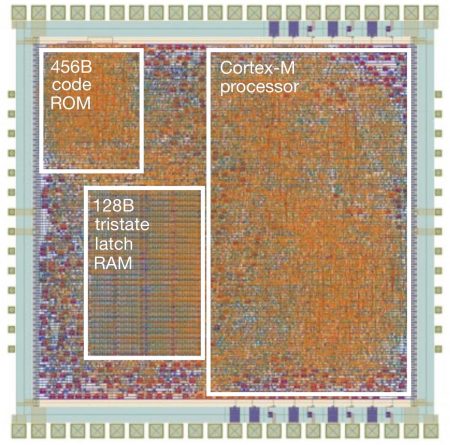 Image Die plot of the flexible Arm Cortex-M processor
The 0.8µm channel-length devices support a maximum frequency of 29kHz with a power consumption of 21mW: the devices were tested while on the support wafer and not with a bent substrate. The team is working on lower-power standard cells to support designs with as many as 100,000 gates but they note in the paper pushing past a million will demand the development of complementary n- and p-type transistors.
John Biggs, distinguished engineer at Arm Research, who worked on both this and the FlexIC projects said a processor like this, if the printing technology can push production costs down significantly will open up markets in for smart sensors, smart labels and intelligent packaging.
"Products using these devices could help with sustainability by reducing food waste and promote the circular economy with smart life-cycle tracking. Personally, I think that the biggest impact could be in healthcare – this technology really lends itself to building intelligent disposable health monitoring systems that can be applied directly to the skin," Biggs said.