PCB tool rewrite to expand platform choices
Altium has rewritten its PCB-design software to improve graphics performance and provide the opportunity to port to non-Windows operating systems such as OS X.
Ben Jordan, senior manager of product marketing, said prior versions of Altium Designer were written in the platform-specific language Delphi, which also limited it to running as a 32bit application under Windows. Version 18 involved refactoring on the more widely supported language C#. "Now cross-platform delivery is possible," he said. "OS X is a higher priority [than Linux] because the engineering desktop is changing. A lot of engineering pros are using MacBooks now. They are moving either to Ubuntu or MacOS and we need to provide the tools on those platforms."
In the move to version 18, Altium decided to drop much of the FPGA-design support it had offered previously on the basis that almost all teams use the implementation tools that are provided by the IC vendors. What stays is the support for pin-swapping "as it's part of PCB design", Jordan said.
The rewrite has come with an overhaul of the user interface, which also takes advantage of the workstation's graphics processing unit (GPU) to speed up redraws, and changes to the ActiveRoute interactive router. In common with other PCB tools, the router will handle tasks such as matching the trace lengths of differential pairs by creating serpentine paths automatically.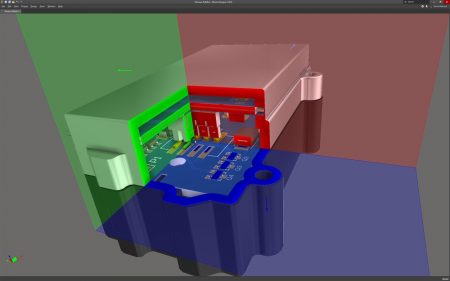 Image A multiboard assembly and enclosure in Altium Designer 18
"The flagship new feature is multi-board assembly," Jordan said, noting that the graphics improvements help performance when showing the 3D interactions between boards in an assembly.
"Multi-board is something that just about every designer has to do now. More and more of them have multiple circuit boards just to conform to the shape of the product," explained Jordan. "People have been doing multi-board for some time but when you design with a conventional PCB tool, there can be alignment and connectivity issues."
One of the problems happens when header connectors are reversed into place when the boards are mated and the pin assignments turn out to be mismatched because the part library has one of the connector numbered incorrectly.
"We realised that connectivity management is the most important thing to watch. It's even more important than the physical alignment. With the multi-board support, you can bring multiple modules into a single, higher-level design and specify how they are interconnected electrically," Jordan said.
In the multi-board environment, pin swaps are handled through an ECO process. "You pull up a change and you can push it down to the other modules to keep everything synchronized across the entire assembly."
Further updates have been made to the ActiveBOM engine to make it more flexible and take account of the inevitable changes in supply-chain dynamics as board designs move to production.
"Most CAD tools generate a bill of materials [BoM] from the design as an afterthought. Someone then has to resolve that list with the actual solutions in the supply chain," Jordan explained. "Treating it as a post-process causes all sorts of pain. Design teams were constantly designing things in that seemed to be available but finding with the production quantities required they couldn't get the parts or that the parts had been flagged as not recommended for new designs.
Although Altium had an earlier version of ActiveBoM it failed to gain traction. The new version takes into account supply-chain issues that made it hard to put into action before. "You can can any number of supply-chain choices: you can have alternatives and drop-in replacements. It can check online and see what components are available and that they are in the volumes you need. If not, it can fail over to the next in line."