Skills gap stalks internet of things
Software skills could hold back the development of the internet of things, ARM CEO Simon Segars claimed in his keynote speech at ARM TechCon in Santa Clara this week (30 October 2013).
Segars said of the internet of things in its current state: "No-one in it is very experienced, and that presents a barrier to adoption. It is something that needs addressing."
Ahead of its conference, ARM commissioned a study from the Economist Intelligence Unit (EIU) on issues around the internet of things. The survey identified the generation of massive amounts of data as presenting the biggest obstacle in terms of available skills.
The EIU report claimed: "Businesses should be prepared for an explosion of IoT-generated data. Fitting sensors and tags to products will generate even more data than are currently being created and captured. Companies feel confident in their ability to handle this explosion of information, but prior experience of storing and analysing large amounts of 'big data' may lead them to underestimate the additional talent and skills needed to spot new uses and revenue steams emerging from it."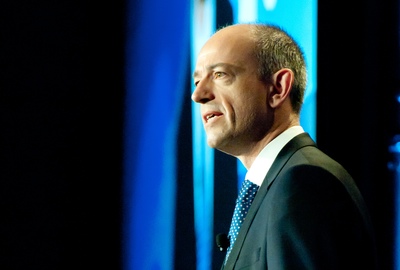 Photo ARM CEO Simon Segars during his keynote at TechCon 2013
Elgar Fleisch, deputy dean of ETH Zürich told the EIU: "It is not so much about big data infrastructure; it's more about having data scientists that have a clue about computer science, statistics and business."
Segars said: "Lots of expertise needs to come together. The feedback on the skills issue came across loud and clear."
ARM's CEO identified a further issue in the degree to which the participants in the supply chain can currently work together. "Collaboration is something that has to happen. People who ordinarily would not talk to each other need to get around the table. But solutions need to emerge because of the size of the industry," Segars said.