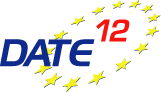 Design Automation and Test in Europe (DATE) is approaching fast. This year the conference has two special days: one focuses on more than Moore technologies; the other on e-mobility and electric transport.
The themes are reflected in the two keynotes on Tuesday. In his speech "The mobile society – chances and challenges for Micro- and Power Electronics" Klaus Meder, president of the automotive division at Robert Bosch, will talk about how electronics can support widespread mobility at the same time as cutting the energy demand of individual vehicles. Meder will also describe some challenges for key enabling technologies in design, semiconductor technologies and assembly.
Mojy Chian, senior vice president of design enablement at GlobalFoundries, which operates the region's largest semiconductor fab, will give an outlook on the future development and role of foundries in the semiconductor industry.
Alongside the conference will be a show which, the conference organizer says, continues to grow after a turnaround in the previous years. There will be 55 exhibitors present at the show.
Saxony's capital Dresden, will present its ecosystem in the exhibition floor, supported by the booths of members of the Silicon Saxony cluster such as Fraunhofer and ZMDI. In an Exhibition Keynote, a new development for exhibition visitors, Silicon Saxony's Andreas Bruening will discuss the key success factors for designing successful products in 2012.
Also in the exhibition will be the University Booth, where in 11 sessions with up to 10 presentations will run in parallel as researchers from universities and institutes will present their latest results with hardware and software demonstrators.
Hot-topic and tutorial sessions include: beyond CMOS, biological systems, automotive software, battery management, Moore meets Maxwell, heterogeneous multi-/many-core systems, variation-aware modeling, verification and testing of analog ICs.