In his early days in the semiconductor industry,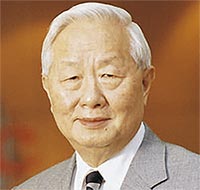 Morris Chang
Morris Chang was one of the "non-Texans" to Texas Instruments and was a manager struggling with the question of how to get individual transistor yields to somewhere around three or even four per cent. One of his colleagues – another immigrant to the Lone Star state – was a young engineer named Jack Kilby, who would often pop into Dr. Chang's for a coffee, a gossip and a chat about this idea he had about integrating multiple transistors in a single circuit.
"I thought it was very impractical," admits Dr. Chang today – and given his job responsibilities then, it is easy to see why.
A little over half-a-century later, it is still very much part of Dr. Chang's role to assess what is and what is not practical from a manufacturing point of view. As chairman and CEO of Taiwan Semiconductor Manufacturing Company (TSMC), he leads not only the world's largest foundry but also – PCs aside – the world's largest manufacturer of chips for consumer devices. His life is defined by the ability to deliver cutting edge processes and make a reasonable return.
Late last year, Dr. Chang made a rare US public appearance at the International Electron Devices Meeting (IEDM).With the benefit of more than 50 years of experience in the business, his nominal role was to set out what he saw as the six crucial innovations in the semiconductor industry – and Kilby and Robert Noyce's invention of the integrated circuit rightly found its place on the list (see box).
However, his message to the IEDMaudience was more concerned with how to use his six building blocks to create a successful business.
"Any foundry that fails to provide differentiatable technology service to its customers does so at its own peril. And any customer that fails to take advantage of a differentiatible technology that his foundry vendor can provide to him does so at his peril," he said.
At a later press round-table, Dr. Chang expanded on what he meant here by differentiation. After all, there are quarters in which it has been felt that process restrictions – traditionally a 'one size fits all' approach to fabrication – at the foundry stage lead to an inherent tension over this issue. His point was that things are going to change, because they have to – although, yes, there will still be limits.
"It is a departure but not a total departure," said Dr. Chang. "We still plan to use a mainstream generic technology, but we will have variations of that to fit specific customers' needs. However, one has to be realistic. How far are we willing to go?Well, that also depends on the size of the customer.We are certainly not talking about 100 different processes for 100 different customers."
Morris Chang's 'Six Innovations'
The core of the TSMC chairman's IEDM speech set out the six innovations without which he argued that even the conference itself would not exist. They were:
The solid-state transistor
The integrated circuit
Moore's Law
CMOS, MOSFETs and silicon gates
The microprocessor
The pure-play foundry model
One item did not make the list: DRAM. Some of Chang's TSMC colleagues thought it should, but he countered that, "The microprocessor was a conceptual breakthrough whereas DRAM was more evolutionary. It was a component not [like the MPU] a subsystem and it did not involve software development, so that was why I left it out."
A comment like this reflects some of the business TSMC has been winning in recent times, perhaps one of the most notable deals being the decision by Dr. Chang's former employer, TI, to abandon standalone in-house process development and work with the Taiwanese company instead. However, there is also now talk of there being more flavors within the generic menu for smaller companies to work with.
"The foundry will develop by increasing more of what is in the design ecosystem, and that will mainly be through IP [intellectual property], and making the whole flow a lot more design-friendly," Dr. Chang said. "Understanding also that the boundaries will need to be very protective of the customer's proprietary secrets."
He also hinted at TSMC using its huge influence to encourage a perhaps more rapid passage of EDA tools from being closely-held among power users to wider availability. Some of this has already become apparent within the breadth of options offered by the foundry's fast-expanding Reference Flow.
"We have to work with the EDA people, and in that sense, we are a power user too," Dr. Chang said. "In fact, as far as the revenue impact is concerned, I would say we are a bigger power user than almost anyone."
However, the key to achieving the wide levels of differentiation desired on the parts of both foundry and user will, Dr. Chang believes, need to come from more extensive collaborative models.
"Some companies, including TI, are achieving the technology differentiation they need through partnership with people like us, like TSMC.What it takes, of course, is trust to begin with and then very close working relationships, very close collaboration," said Dr. Chang.
"It is like the times when the process technology development was under the same roof as the design people. You need to achieve a degree of partnership almost like that. That's what we at TSMC are trying to work out with our customers."
In terms of innovation and differentiation, Dr. Chang believes that there remains plenty of scope within which the semiconductor industry can deliver, even if growth rates are now being forecast in the seven or eight per cent region – more modest than was seen in the past. One area he highlights in particular is system-on-chip, where the TSMC chairman bluntly told his IEDM audience that the industry was tending to a lot more talk than action.
"The reason I said we talk about it rather than doing it was because, in reality, how often do you see a complete system-on-chip? The answer is, not often at all. People have been talking about SoC for years and I think that we have achieved what I would call 'almost- SoCs'many times, but not entire ones often enough,"Dr. Chang said.
Asked to cite an example where the reality was currently falling short, he then replied, "I think that embedded memories is one key thing. Usually a system has a lot of memory and nowadays we still have the memory on-chip. So that would be one thing."
Another thing that TSMC needs to do, in Dr. Chang's view, is to drive more companies through to its leading edge processes. Dismissing claims that 2008 could see a crunch for foundry capacity, he offered the perhaps surprising observation that, "I don't think we are in danger of a shortage. In the last few years, we have always had a situation in advanced technology where capacity exceeded demand."
This last point cuts to the heart of the foundry model. TSMC and its rivals will build what capacity they believe will get used, and make other R&D investments in this context quite ruthlessly.
Today, Dr. Chang acknowledged that in the broader sense he now has more customers looking to him to help them meet low power requirements than he does asking for performance and scaling in line with Moore's Law – although the large graphics market is still setting demanding performance goals. Nevertheless, he suggested that the task of transitioning to ever smaller process nodes is raising serious issues.
"This business is costing more and more. That's why Moore's Law runs into trouble economically first, before it runs into the ultimate technical limit barrier.We've already seen that.Why do you think the industry's growth has slowed down? The main reason is that progression along Moore's Law does not bring enough benefit anymore," said Dr. Chang.
One knock-on effect of this may well be a reduction in the number of companies that are willing and that can afford to stay in the foundry business – a forecast offered half jokingly by Chang: "If you ask me how many foundries are required, I would say maybe only one – or, I'll be liberal, and say maybe two or three. But today there are about 10, I think."
Yet, in terms of the world's overall demand for chips, Chang believes the future is bright, even if right now the important US market is suffering the fall-out of the sub-prime mortgage crisis.
"Yes, I have some short term concerns that relate to the sub-prime problem. But they are short-term," said Dr. Chang, who also sits on the advisory board of the New York Stock Exchange. "I think that, first of all, the impact on overseas markets from sub-prime is smaller than here in the US. Secondly, I think that even in the US economy, it will probably pass next year. The problem is going to spread wider and last longer than originally thought, but given another six or nine months we should see its effect end."
"In the long-term, though, I don't see anything that will seriously disturb world economic growth.We constantly face challenges. Even though they are new for every generation – that pattern in itself is not new. Think two decades ago and we thought we were dealing with a new world.Well, now we think the same, and this new world that has things like high oil prices, and it has climate change and all the restrictions that will bring, and so on. But I think that the economists have taken all that into consideration and they still see the world economy growing."