Enabling energy-efficient wireless IoT designs with Bluetooth Smart IP
All IoT devices need network connections – the I in IoT does stand for Internet, after all.
For many IoT applications, a Bluetooth Smart implementation offers the right balance of wireless convenience, adequate bandwidth, low standby and operating power consumption, implementation cost, and complexity.
Which sectors of the IoT does Bluetooth Smart fit best? I'm thinking about low-end edge devices such as wearables for infotainment, fitness and health, and machine-to-machine applications in smart appliances, safety and security. The IoT devices that are being built for these sectors are optimized for minimum cost and power consumption. They often run a low-memory embedded real-time operating system – or do without one entirely. And they are usually built on a low-cost process, ideally one that includes embedded flash memory as well as analog capabilities for peripheral and sensor interfaces.
Why is the Bluetooth Smart protocol (also known as Bluetooth Low Energy, and Compliant with the Bluetooth SIG's v4.2 standard) a good way of providing a wireless network connection for these devices? The answer is that although the data-rate of the protocol is limited, so are its power consumption and implementation costs. The protocol, which has a low duty cycle, also enables short-range connections to be established and re-established quickly and simply – ideal for devices that may be moving in and out of power-saving modes regularly.
Bluetooth Smart is also a good fit for SoC designs that are applying a variety of advanced strategies to minimize power consumption. These include dividing the SoC's architecture into functional blocks so that designers can use features of their chosen processes, such as ultra low-power transistors, and apply targeted design strategies, such as clock and power gating or dynamic voltage/frequency scaling. In practice, this means that an always-on voice recognition block can be optimized to cut dynamic power use, while blocks that are idle most of the time can be optimized for minimum static power use. 
Bluetooth Smart in detail
So what is Bluetooth Smart? It is a layered protocol (Figure 1). At the lowest layer, the PHY consists of the RF transceiver, and baseband features such as signal modulation and demodulation. The link layer establishes and manages connections between devices, as well as low-level and security functions. These two layers together are termed the 'controller subsystem.'
Application profiles are part of the 'host subsystem' and are implemented as code running on a generic processor. Collectively, this is called the software stack.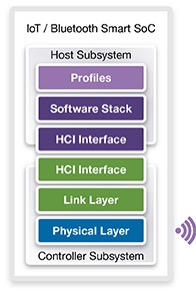 Figure 1 The Bluetooth Smart protocol stack (Source: Synopsys)
Our DesignWare Bluetooth Smart IP portfolio is qualified using Bluetooth SIG procedures and has been built to make it easy to implement the protocol in your SoC. For example, the PHY block illustrated in Figure 2 has been proven in TSMC's 180nm and 55nm silicon (and other processes) and can operate at less than one volt. It integrates a matching network for accurate signal transfer between transceiver and antenna, which also reduces the need for external components and so saves board space and build costs.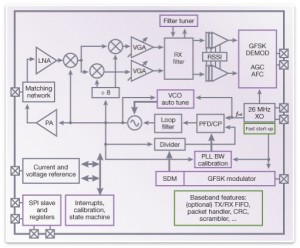 Figure 2 DesignWare Bluetooth Smart PHY IP (Source: Synopsys)
The PHY has been proven to work with multiple link layers and software stacks, enabling SoC designers to build complete Bluetooth solutions based on qualified IP. For example, we recently worked with Mindtree to show that our Bluetooth Smart PHY IP works with Mindtree's BlueLitE link layer and software stack IP. These are configurable, compact and include power-saving mechanisms.
Other wireless networking protocols, such as ZigBee or WiFi, are available, but Bluetooth Smart offers a useful set of features and benefits for IoT applications that need to be able to establish low-power network connections at minimum implementation cost and complexity. For those developing a roadmap of IoT products in such sectors, it's also reassuring to know that the next version of the standard should support mesh networking, extended range and higher data rates, too – offering a attractive upgrade path.
Further information
Author
Manuel Mota joined Synopsys in 2009 as a technical marketing manager and is responsible for the DesignWare data converter, audio analog and Bluetooth IP product lines. He brings more than 13 years of technical and marketing experience to his position. Prior to Synopsys, Mota held product marketing, business development, and IP design positions at MIPS Technologies and Chipidea Microelectronica. Mota holds a PhD in electronic engineering from Lisbon Technical University which he completed while working at CERN (Switzerland) as a Research Fellow. He has authored multiple technical papers and presented in several technical conferences on analog and mixed signal design.
Company info
Synopsys Corporate Headquarters
690 East Middlefield Road
Mountain View, CA 94043
(650) 584-5000
(800) 541-7737
www.synopsys.com