The first of a series of seven articles describing the key details of the USB 3.0 protocol.
Why should you consider using USB 3.0 in your designs, rather than the more familiar USB 2.0?
There are a number of reasons. The first is the most obvious – USB is a ubiquitous connectivity standard, but USB 3.0 (also known as SuperSpeed) is ten times faster than USB 2.0. This means that a 27Gbyte HD video transfer that would take around 14 minutes to complete on a USB 2.0 connection can be done in 70 seconds over USB 3.0.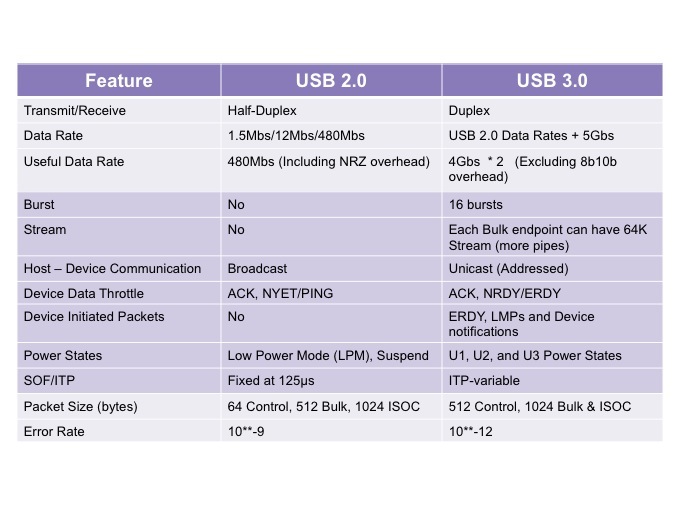 Figure 1 USB 3.0 vs its predecessor, USB 2.0 (Source: Synopsys)
The new version of the protocol is backwards compatible with USB 2.0, preserves the existing device model, so existing drivers should still work, but is more power efficient.
USB 3.0 will bring benefits to existing applications such as media storage, media creation devices like digital cameras, wireless networking products, set-top boxes, tablets and smartphones. It may also be useful in new applications, such as where a monitor acts as a docking station for a laptop or smartphone and the USB 3.0 connection carries all the data for the port replicator.
USB 3.0 offers full-duplex connectivity of 5Gbit/s, or a useful 2 x 4Gbit/s, as compared to USB 2.0's half-duplex rate of 480Mbit/s. USB 3.0 also introduces a burst mode, and support for a streaming protocol. The new standard is also unicast, that is, data is sent to a specific end-point, rather than taking the broadcast approach of USB 2.0. There's also better flow control, with more ways for a device to throttle the data flow.
USB 3.0 also has more sophisticated power management, with three power management states to USB 2.0's two, for finer-grained power control.
Finally, the error rate for USB 3.0 is specified to be 1000 times lower than that for USB 2.0.
Further information
If you are new to designing with USB, or looking for tips on implementing USB 3.0 IP, attend Synopsys' "USB 3.0 University." Topics in this instructional video series range from a basic USB overview, to implementing USB on FPGAs, to top-level synthesis, and more. Click on the links below.
USB 3.0 Protocol Layer – Part 1
USB 3.0 Protocol Layer – Part 2
Company info
Synopsys Corporate Headquarters
700 East Middlefield Road
Mountain View, CA 94043
(650) 584-5000
(800) 541-7737
www.synopsys.com