Ellen Sentovich
As EDA Tech Forum went to press, the programme for 2006's Design Automation Conference (July 24-28) in San Francisco was only just being made public. However, one thing was already clear. The event is set to be bigger than ever before.
"We had been concerned about the move to July because of the clash with vacations but people have seen this as a one-off," says DAC general chair Ellen Sentovich. "We even have people who have not been to the conference for several years saying that they will come because of the venue."
In more specific terms, a record 865 papers had been submitted and 225 companies – including more than 30 first-timers – had agreed to exhibit at DAC before the program was fully announced.
"We're drawing now companies from places like Greece and Russia, and, of course, we're getting many from California," adds Sentovich.
"We have people who have not been to DAC for several years saying they will come."
There has been a long-standing desire among many vendors and their customers for DAC to take place in the Bay Area as frequently as possible. This year's return to the Moscone Center – the conference was last held there in 1998 – marks the beginnings of a response to that. DAC will return again in 2009 and 2012, and from then on, it will alternate between San Francisco and San Diego.
Themes for 2006
The format this year will be broadly familiar. The conference will feature 13 tutorials, four workshops, 18 DAC Pavilion presentations and more than 60 technical sessions. All in all there will be more than 200 technical papers.
Within this crammed program, steps have also been taken to extend the scope of the conference. Eight of the 10 tracks return: Management; System-Level and Embedded Systems Design; Low Power and Thermal; Analog and Circuit; Interconnect, Reliability and DFM; Verification and Test; Synthesis and FPGA; and Physical Design. However, two new tracks reflect growing concerns and technologies in the semiconductor industry: Beyond The Die and New & Emerging Technologies.
"Beyond The Die gives us a chance to look at what's happening now in areas like chip package co design, complex packages, and even at some of the 3D stacking techniques. For emerging devices we have been able to secure papers on topics like molecular devices and quantum computing, and wireless sensor networks."
This extension of DAC forms part of a broader agenda that Sentovich and her colleagues have pursued in pulling together the 2006 program – one which becomes clear as she outlines the motivation for one of this year's main themed days.
"We have decided to go with a day on Multimedia, Games and Entertainment. A lot of things, many of them from the market, have driven this. I think that people working in EDA get a very clear idea of the challenges ahead from the Intels and the IBMs of this world, but I think they have less of a sense of what's happening at the Nvidia's and ATIs and the other guys working on these hot new chips. So, we picked the theme to make a concerted effort to bring in experienced people from a particular vertical area to talk about their problems," says Sentovich.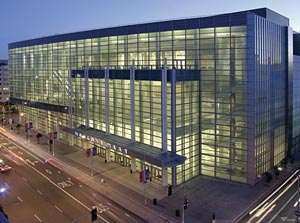 The Moscone could be hosting many more DACs in the future
"You hope that it will help people in EDA look at things from another perspective. For example, with a cellphone, they'll tell you the talk time, and they'll tell you the idle time, but what they won't say is the gaming time. But that is what a lot of people use these devices for now. Also, you have a big drive to get 3D graphics on these devices."
The MG&E day – Wednesday, July 26 – will also feed into sessions elsewhere at the conference and give delegates insights into areas such as iPod, Xbox360 and PSP design as well sa the future of computer animation for Shrek's home studio, Dreamworks.
However, important 'traditional' elements have not been forgotten. Among these, Tuesday (July 25) will be DAC's Management Day. This comprises business and technology sessions aimed at giving mid- and senior level managers a forum for sharing information on key decision-making processes as well as current technology trends.
The 2006 Management Day will include a panel discussion on the fabless model, and sessions on the choice of flows and implementation technologies, and on the design of graphics, entertainment and wireless products.
Keynotes
This year's line-up of keynote speakers also cuts a broad swathe across current activity in the semiconductor market.
Hans Stork, CTO of Texas Instruments, will deliver the Tuesday keynote (July 25), 'Structuring process and design for future mobile communication devices.'
He will address how such devices are a driving force for continued scaling economies in design automation. Dr Stork will also discuss the density and speed of sub-50nm CMOS technology that is enabling mobile comms design, as well as the process variations, power issues and complexity that require improved modeling of systematic manufacturing variations and design sensitivities.
On Thursday, July 27, Alessandro Cremonesi, strategy and system technology group vice president of STMicroelectronics will talk on 'The Challenges of Convergence'.
His talk will pull on ST's experience in the development of network-on-chip devices. Dr. Cremonesi's theme will be that multiprocessing is already a reality and the industry will have to find new paradigms to handle the increased complexity at the system level, in embedded software, and at the silicon implementation level.
Also just announced is a third keynoter for Wednesday (July 26), Joe Costello. For more on the Cadence founder's current activities and plans for his DAC address, you need do no more than turn the page for EDA Tech Forum's exclusive interview.
The DAC bellwether
Get on the bus
San Francisco parking is not fun. Never has been. Never will be. So, while this year's DAC might be closer to the Valley than in recent years, there's still one disincentive to attend right there.
However, this year, the organizers are trying to make things easier for those visitors coming into the city from the South Bay by providing direct bus routes to the Moscone Center from the Caltrain station at 4th and Townsend.
Commuters coming in via the BART system can use stations along Market St that provide easy and quick access to the Moscone.
Box copy ends
One question always asked about every DAC program – whether the individual can attend or not – is, 'What were the submissions about?' The answer to this is often taken as a measure of the challengees that are most pressing upon the industry. In 2006, there are not too many surprises.
"In terms of the technical program, we were up 18% in submissions and you could see increases across the board," says Ellen Sentovich. "But, within that, you could see some further and particular areas that were dramatically up. The ones that immediately spring to mind were power, verification and design for manufacturing – and also a doubling in system-level and embedded system design.
"I actually treat that last one with a little caution, though. The fact that we have now system-level and embedded together in one category means that maybe the increase in ESL isn't quite as great as some might think. I think the other reason to be careful there is that while there is a lot going on, what we don't have yet is the overall system-level vision," says Sentovich. "We're getting there but it not's quite in place.
"I think another interesting trend, though, is that we are now seeing a significant number of submissions out of Asia and also out of the former eastern bloc countries. That's an interesting reflection of where a lot of EDA research is now going on."
San Francisco in July. Active. Lively. Busy. It would certainly appear so.