Systems design automation for real
The Design Automation and Test in Europe (DATE) conference is a comparatively young event—it reached only its 11th edition this March. Nevertheless, it has now firmly established itself on the EDA calendar and this year significantly extended its scope to become the world's most important electronic systems design automation conference.
At the same time, it also re-emphasized its position as a key event for embedded software.
DATE08 took place over five days in Munich with up to eight conference sessions running in parallel. Highlights included an Executive Track where panels discussed some of the most topical technical and business issues, and two special days dedicated to topics of particular importance to the European industry: automotive systems and dependable embedded systems.
This article picks out some of the headlines from this year's show and attempts to give readers who could not attend DATE an idea of what it offers, as well as the context of European design in which it operates.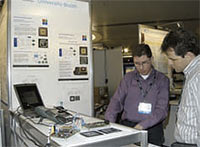 DATE's University Booth attracted 41 presentations
For example, a noticeable difference between DATE and the more established Design Automation Conference (DAC), is the role played by collaborative R&D programs at DATE. They account for a significant part of the conference program because—in a way perhaps largely unrecognized by DATE delegates from outside Europe—they have a huge impact on the European industry in general.
The official number of attendees was 4,700. This compares with 4,651 who visited DATE's last Munich edition in 2006, so overall attendance was stable. The 2008 breakdown was 1,420 conference delegates, 3,231 visitors and stand personnel at the exhibition, and 49 representatives of the press. Some 75% of visitors came from Europe and 19% from North America. Germany, at 36%, claimed the largest national share. But while the overall attendance numbers still look perfectly satisfactory, there was a downside: the number of exhibiting companies fell.
The keynote speeches during the opening plenary session were the perfect start to the event. Giovanni De Micheli from EPFL Lausanne mapped out a fascinating vision of the future in his talk "Designing Micro/Nano Systems for a Safer and Healthier Tomorrow." Dominique Vernay from Thales reflected the emerging thematic priorities of DATE itself with his speech, "Perspective on Embedded Systems: Challenges, Solutions and Research Priorities."
There is not enough space here to address the content of the keynotes specifically, but taken together they did show that Europe is increasingly focusing on technologies that address the pressing social issues of our time, such as climate change, energy consumption and healthcare. Here and elsewhere at the conference, it was also evident that the European electronics industry intends to further develop its leadership position in ESL design.
In addition to the already cited field of advanced embedded systems, the focal points for European innovation will no longer be found only in the classical 'More Moore' (faster, smaller, less power) arena, but increasingly also in the emerging 'More than Moore' space—for example, in markets for new device and component types such as sensors and the related area of micro-electromechanical systems.
However, the bigger issue is the way that this year, the DATE conference consolidated its reputation as the world's most important event for electronic systems design. ESL integrates vertical applications system development with horizontal hardware and software implementation. It spans the design spectrum from complex system algorithm development to hardware/software (HW/SW) co-development, including chip design at higher levels of abstraction.
Consequently, embedded software issues were front and center in the program, and this specific topic experienced 50% growth in the number of conference paper submissions it attracted. These submissions clustered around a number of themes, most notably real-time and dependable systems, compilers and code generation, and model-based design.
Meanwhile, from an applications perspective on ESL, automotive played a major role at DATE08. This industry is of vital importance to the European economy. It is a key field for the intensively discussed area of dependable embedded systems. And it is an area where some of the most interesting innovations in electronic systems occur.
Against this backdrop, it is significant that one of the few new wafer fabs planned for Europe is under construction at leading automotive electronics supplier Robert Bosch in Reutlingen, Germany. It is due to open in 2009. The company is also an increasingly influential research player in terms of design methodologies and EDA tooling strategies.
Alongside the previously cited drop in exhibitors at DATE08, it should be noted that the feedback from those companies that were present was somewhat mixed. Some said they were rather disappointed, although others said that the show continued to provide a valuable, in some cases indispensable, meeting point for the industry's management.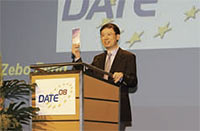 Program chair Zebo Peng introduced the DATE08 line-up
There is the broad trend—visible at both DAC and DATE—in which EDA vendors now say they place less importance on trade shows as showcases for their tools. At the same time, however, DATE once again confirmed its position as the prime networking event for European research, engineering and management. And everybody agrees that some event to serve as an annual core European meeting point is essential.
As DATE's executive committee considers how to balance and meet different requirements across conference and exhibition attendees (groups that also do not necessarily have the same agendas), it is perhaps worth looking at the role collaborative R&D projects play both in Europe generally and also at conferences specifically.
In these projects companies from all over Europe join forces, and are typically joined by universities and research institutes. The European Commission as well as national authorities, such as Germany's BMBF, provide support. Two of the most recent projects to be launched are ARTEMIS (which concentrates primarily on embedded systems and software) and ENIAC (which takes nanoelectronic technologies as its priority).
Such projects underpin a large part of the innovation currently taking place in the European microelectronics industry.
In addition to their technical output, the industry also benefits from the close links they foster between academia and industry. Research agendas and the student curriculum are aligned to future needs of industry, ensuring the availability of well-trained personnel.
Consequently, these projects also have a huge influence on what is happening at DATE. Many of the talks in the technical program covered the results from such projects. The conference also featured practical design case studies and applications-based demonstrations that resulted from the collaborative projects. The promotion of 'best practice' thus seems to be more in the spotlight at DATE than at DAC.
The same could also be said of the exhibition, particularly DATE's use of its University Booth, located close to the stands of the various vendors. This helps again to set a very practical tone across much of the event, offering an extremely comprehensive overview of university research that is ready for industry to use.
Our organization, edacentrum, organized this year's University Booth so that across 11 sessions, universities from all over the world could present their latest research and visitors could find out the latest trends in both the hardware and software aspects of electronics design. There were 41 demonstrations in total, of which 24 were software-based and 17 were hardware-based.
DATE08 also hosted booths from 17 European collaborative research projects, as a means of disseminating the latest results of their research and in order to provide additional links between researchers and industry.
DATE08 therefore did provide many places and opportunities for research to meet design and practice. It continued to enhance the links between European industry and academia, and its executive sessions—the most crowded at the event— underlined that the sector itself is healthy and active. The conference is dealing with the right challenges at the right time, and it is able to do so because it is very much in touch with the reality of convergent system and chip design.
The edacentrum consultancy has produced a more detailed trends report based on DATE08 and will be preparing a similar review of DAC 2008 later this year. For information on both, please go to http://www.edacentrum.de/edaTrend/.