Consumer market promises steady progress
US factory-to-dealer sales of consumer electronics will surpass $155B in 2007, representing 7% growth, according to the most recent forecast from the Consumer Electronics Association. This performance will follow on from an expected $145B market in 2006, a year which surpassed even the most optimistic forecasts by logging growth of 13%.
"The industry outlook is proof positive that Americans can't do without their beloved consumer electronics," said CEA president and CEO Gary Shapiro. And there seems little reason to doubt him.
The CEA's macroeconomic analysis concurs with the mainstream in observing that while real estate markets remain soft, indicators for labor and retail spending remain strong (after excluding the influence of current gasoline prices), and inflation appears to be under control. Consumer electronics' ability to also sustain steady – if not spectacular – growth for semiconductors would appear to be holding up.
The more detailed CEA data also tells another familiar story – the cost down pressure on wholesale unit prices remains strong. Indeed, strong enough to still cause pain for the 'best' consumer market today. Here, we review two key sectors in the CEA report: displays/HDTV and convergence in wireless devices.
The HD revolution
Leading growth across US consumer electronics is the TV and display sectors. The widespread US roll-out of HD content during 2006 – continuing into 2007 – as well as the impending transition of all broadcasts to digital and the advent of true mass market prices for larger screen sizes all point to this area as a star performer. Digital display technology revenues are expected to exceed $26B in 2007, up from $24B the year before. Combined unit shipments of plasma and LCD displays are expected to be around 19 million. Interestingly, the CEA's numbers here do not yet appear to take account of the potential impact of SED (Surface-conduction Electron-emitter Display) technology.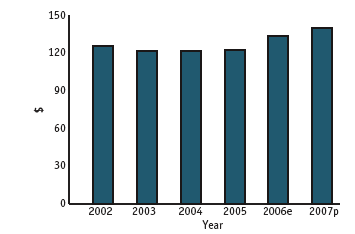 Figure 1. US CE sales (factory prices), 2002-2007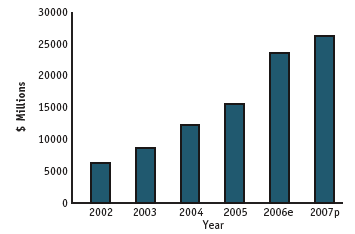 Figure 2. US digital TV and display sales, 2002-2007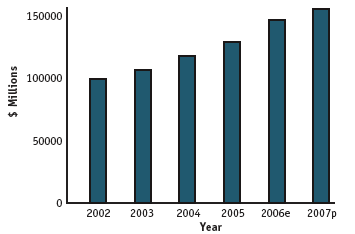 Figure 3. Portable communications devices, average unit price, 2002-2007
SED, also dubbed 'the plasma killer', was shown off in prototype form by its Japanese parents at the 2006 Consumer Electronics Show (CES), where it carried a promise of soon competing against LCD and plasma on both quality and price. However, licensing issues have forced Canon and Toshiba to abandon their joint venture.With Canon now going it alone on SED, the technology's future is more uncertain.
Average wholesale unit prices for LCD are expected to slip from $808 in 2006 to $772 in 2007. Last year also saw LCD widescreen sales value surpass that for plasma for the first time, at $8.5B (10.5M units) against 2005's $3.3B (4.1M units). LCD sales in 2007 are expected to leap yet again to $12.2B (15.8M units).
Equivalent average unit prices for plasma displays are also expected to fall from $1,767 in 2006 to $1,542 in 2007. This is a much greater drop in simple terms than for LCD, however extending the price trend backwards shows that plasma prices are now settling. The greatest value decline occurred between 2003 and 2004 ($4,649 to $2,698), and in the more recent 2005-2006 period, the price fall was almost $500.
Plasma volume was 3.2M units in 2006 for sales of $5.7B and this is forecast to reach 3.9M units this year producing sales of $6.0B. However, while these figures may seem to represent a relatively modest maturation of the displays business, some of its main players are not so comfortable with market trends. Both the LGPhilips and Samsung display units reported far more rapid price erosion on their activities shortly after the CEA released its numbers. Cost-down here is getting tough.
A more difficult question to answer concerns the other side of the high definition revolution. The next generation DVD format war does currently seem to be going in favor of HD-DVD over the rival Blu-ray Disc format – but with the disc players themselves still only slightly less rare than hen's teeth, no definitive judgment is as yet possible.
Three factors may ultimately influence which way the market jumps – and none actually offers that much clarity today.
1. Can a dual format player obviate the risk of a format war?
CES 2007 saw LG Electronics launch its 'problem solver' in the shape of an all-format (AF-DVD) player but at a retail cost of $1,200, more than the combined cost of buying the current entry-level equipment for both formats (Toshiba's basic HD-DVD player and the Sony PlayStation3 (PS3)). That hardly solves the problem at all. The challenge now concerns whether LG can drive its own costs down to bring out players that are sensibly priced or whether other reference board design houses can bring mass market numbers to AF-DVD more quickly.
2. What impact will the games console market have?
Sony undeniably sees the PS3 as its 'battering ram' to bring Blu-ray to market dominance. However, it lost out on the Christmas 2006 window because of production problems and rumors persist that Microsoft will take advantage of its latest cost-down revisions to cut the price on the Xbox360 (including packages incorporating a HDDVD module) just as Sony brings the PS3 to market in volume. This last move by Microsoft will have obvious implications for the games console market as well. Sony will be left calculating how to respond and still retain some ability to recoup its vast marketing costs as well as its NREs on the PS3's Cell microprocessor. Meanwhile, even Nintendo, with its cheaper Wii console, may be left looking nervously over its shoulder. One way or another, the CEA is forecasting that console revenue will be up by 23% during 2007 to $16B, but perhaps the only sure-fire winner here is IBM, which has a silicon investment in all three competing consoles.
3. Does adult entertainment matter?
The adult industry famously tipped the balance during the VCR format war in favor of VHS over Betamax in the eighties, when Sony refused to license its technology to producers of erotic content. Sony originally appeared to have switched tack here for Blu-ray by signing up adult entertainment producer Digital Playground exclusively to its format early on. Yet, during CES 2007, the adult production company claimed that it had effectively been evicted from Blu-ray and had joined the HD-DVD camp. Several other producers in the adult market also said they would be using HD-DVD and not Blu-ray.
However, adult entertainment producers privately admit that they are 'struggling' with the much higher production costs associated with filming in HD formats. Some may stay with DVD and as a result, this time around, their influence could be overstated.
Wireless convergence
The CEA confirmed that the market for standalone MP3 players is now entering its replacement cycle, but still forecasts that 41 million will ship in 2007. The more interesting activity here, however, is in the sector for converged wireless devices, as evidenced most clearly by Apple's now public plans for an iPhone (trademark battles notwithstanding).
While the wireless phone is the most commonly owned portable device (79% of online adults have one in the US), and while ownership of portable media players continues to rise, bringing these two forms of functionality together is becoming increasingly important to the replacement process in both markets.
A further point noted by the CEA here is that the parallel distinction between a wireless phone and a PDA purchased for productivity is also becoming increasingly blurred.
In commercial terms, this means that wireless handsets are continuing to buck the typical trend that sees volumes rise but average unit prices and total sales fall as a market matures. The CEA forecasts a rise in handset sales value to $19.1B from $17.9B for 2007 over 2006, together with total volumes up to 130.2M from 127.5M over the same period. This implies a modest rise in unit cost to $147 from $141.
That last figure is good news for Apple chief Steve Jobs, given the hefty price tag appended to the iPhone, although it is still quite a price push against what many believe the market can sustain. In terms of semiconductor revenues, one question that will be endlessly analyzed during 2007 is what all this means for the commercial, EDA and NRE questions surrounding techniques such as system-on-chip and system-in-package. Demands for integration and greater functionality are obviously not about to fall, so pressures to innovate will remain as intense as ever.
US Consumer Electronics Sales & Forecasts 2002-2007 is issued twice a year by the Consumer Electronics Association at a cost of $499. To purchase copies visit www.ebrain.org, and for more information on the CEA's research activities visit www.CE.org/research