Integrated IP supports cost-efficient USB Type-C
The arrival of USB Type C provides an opportunity for SoC design teams with opportunities to provide customers with significant cost savings. Integrated IP will help the process.
Earlier in the autumn (20 October, 2015), Cadence launched its offering for the new USB Type-C connectivity standard. The changes to the USB Type-C connector – making the connector shape much more user-friendly and enabling more functions, including increased power handling – are likely to inspire electronics equipment manufacturers to quickly switch to it. Having silicon to support this switch allows adoption with a minimal increase in silicon area, which will make it economically viable for many to incorporate USB Type-C control into SoC designs.
Cadence product marketing manager Jacek Duda says: "USB Type-C makes a huge difference for user experience. In a few years from now, all USB devices will use the new connector natively, and new types of applications that make use of the combined USB standards will help further proliferate the standard."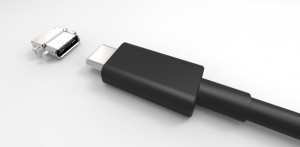 Image USB Type C's symmetrical connector (Source: USB IP/Foxconn)
Developed at the same time as the Gen 2 mode of USB 3.1 specification, but introduced separately by the USB Implementers Forum, a key change with USB Type-C is the reversible connector, which overcomes the usability issues with previous versions of the standard, ranging from a multiplicity of plugs through to orientation difficulties. The USB Type-C connector is reversible, using logic in the controller to detect the device role and its additional functions, including USB Type-C Alternate Mode and USB Power Delivery support, automatically.
Power increase
Duda says: "USB-IF introduced the latest revision of the Power Delivery specification to support higher power alongside or independently of the USB data path. It has been a maximum of 7.5W up to now; we are now talking 100W.
"Moreover, with USB Type-C Alternate Modes the USB Type-C cable will support other protocols that use high-speed differential pairs, such as DisplayPort or MHL, both of which which are already approved by USB-IF. Also, the most recent revision of the Thunderbolt specification replaces the mini DisplayPort plug with a USB Type-C connector to support both PCI Express and Thunderbolt. They are all coming together."
The support for alternate modes such as DisplayPort is seeing disparate IP cores being brought together as SoC designers look for the ability to produce interface logic and transceivers able to deal with the multiprotocol environment and deliver products that can take advantage of the lower cost of a single connector and the subsequent lower bill of materials (BOM) cost. In addition, the reduced board size will provide significant competitive advantages. SoC integration provides a further degree of cost reduction.
SoC cost savings
"We are aiming the subsystem for a single SoC implementation. Rather than them having to rely on discrete components, we offer designers something that's already integrated at the SoC level. We think we can significantly cut down costs and PCB area by offering an integrated solution," Duda explains.
"Enabling USB Type-C support with our SoC solution certainly requires more silicon area than the USB PHY alone, but it's a relatively small slice. And you are saving yourself a whole discrete chip by using it," Duda says, adding that the additional hardware needed to deal with connector orientation and other aspects of the USB Type-C changes are included in the PHY.
The current crop of pre-verified components from Cadence include a single-chip port controller IP that integrates USB Type-C, USB Power Delivery and USB Type-C Alternate Mode for DisplayPort support. The subsystem components are pre-verified to mitigate project risk and ease SoC integration.