Business economics drive open source strategies
The GENIVI Alliance is already accelerating cross-industry standards development only two years since its formation, says Joel Hoffmann.
The automotive industry is looking to transform 100 years of legacy development practices and processes into the free-spirited and dynamic world of community innovation. The integration of consumer electronics in vehicles has been taking place for some time. But it has involved relatively clumsy, manual software development processes limited to external device 'attachment'. The next step requires processes that enable integration into the industry's business fabric. The automakers and suppliers that get this right will profit over time, even if they pay the most upfront as the new and old worlds overlap.
As the first industry to rise from the 2008-2009 recession, high technology is already achieving new levels of growth with companies such as Intel reporting all-time record sales and profitability for 2010. This momentum is flowing into adjacent sectors from the traditional world of PCs and servers. In particular, embedded silicon and software are emerging from the closed-development closet.
All of us have seen Apple ride a rocket to the Moon largely fueled by how its App Store and iTunes serve and extend its hardware. Many will argue that Apple's business model is similar to IBM's old mainframe strategy—'buy it all from us'. But the inclusion of open source software is clearly an integral part of Apple's product portfolio.
Without its open source projects such as WebKit, Apple could not have delivered the Safari-based Internet experience while keeping control of the platform and customer relationship. Google's Android, HP's WebOS and the Linux Foundation's MeeGo project all seek to gain similar positions in the market but have additional levels of openness.
Interdisciplinary challenges
What distinguishes pure open source software from a product is the governance model, not the code. In Apple's case, that governance starts and stops in Cupertino. For others, it is less clear. For automakers, their legal departments are struggling with the licensing terms, engineers are wrestling with controls and processes, and marketing departments are chasing the latest trends for product requirements that may not fully materialize for several years. Getting this right is fundamental to developing in-vehicle infotainment (IVI).
Traditional tiered supply channels struggle when it comes to determining who are the designers, integrators or manufacturers. Tier 1 supplier Hyundai Mobis is the parts and services arm of Korea's Hyundai Motor and Kia Motors (its name stands for 'mobile and service'). Its executive vice president Park Sang-kyu wants to double its number of engineers to 3,000—most being software programmers. His challenge is to find engineers who understand both programming and automobiles.
Such problems have been solved in the computer business, but their solutions do not translate all that easily to a century-old monolithic industry famous for intense supplier competition. So, the automotive industry is building the GENIVI Alliance.
GENIVI speeds the infotainment business
GENIVI is unlike typical trade umbrellas set up to promote the adoption of standards that have been developed elsewhere. The alliance itself is developing the standard for Open Infotainment (read: Linux) software with eight automotive OEMs having signed up for so far. GENIVI is then simultaneously promoting adoption of that standard across more than 110 supplier companies that have joined since March 2009.
The idea is that if the members agree to share some of the risk in sorting this all out, they can also share the cost burden. As long as GENIVI leaves at least 5% of each layer to allow the ecosystem to resolve issues and innovate within that headroom, the infotainment business will accelerate. Adapting all the good strategic ideas already road-tested by Apple, Google and others will enable the creation of a format the auto business can steer itself and also provides scope to leverage the resulting platform beyond short term needs. The commonly shared vision is that cars will be connected not just to iPods, but to the Internet where all the new software ideas exist. This is the same world where WebKit and other platforms thrive.
Automobiles need these components to create highway networks that communicate across car brands, models and personal devices. Thousands of connected applications are being conceived, but there will be nowhere to park them unless a standard interface is established. Toyota, for one, is looking way beyond connected handheld devices and paying close attention to numerous safety issues, such as driver distraction.
GENIVI conducted a survey of 117 industry executives both inside and outside the alliance. It found that Linux has captured a strong position in IVI marketplace (www.genivi.org/MRD). While most commercial product implementations are still in development and will not materialize in production cars until 2012-2014, much work has been done by the alliance to pave the way and establish a governance model. These polled executives believe that if GENIVI stays on track, all industry participants developing Linux for IVI will switch to GENIVI in the next few years.
The alliance is built around expert groups headed by automotive OEMs (Figure 1), where the functional requirements for the middleware platform are created. These requirements are further validated by the other OEM members to establish a consensus. The technical specifications are then developed by a lead Tier 1 player assigned to the specific expert group and subsequently iterated by the other Tier 1 members. Much the same happens in a pure open source project.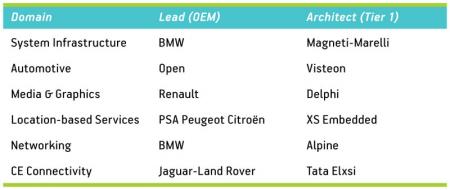 Figure 1
GENIVI Expert Groups
There are now five active expert groups significantly based on pre-alliance deliverables contributed by the founders, BMW, Intel, Magneti-Marelli and Wind River. This work will grow over time based on continuing OEM leadership and further product nominations from the broader membership.
How it works
The founders have provided a set of reference code for GENIVI to demonstrate the capabilities and scope of the middleware. Subsequent members are contributing more code that will establish itself either in the GENIVI repositories for member access or in pure open source repositories supported by member and non-member maintainers. Where possible, all this IVI-related code will work its way upstream inside the overall Linux project, thus enabling further innovation. Again, there is a comparison to be made here with how WebKit has exploded through broad community support.
Concurrent to the functional requirements and technical specifications developed by the expert groups, a software component list and matching compliance statement are nearly ready for release. These documents will drive a compliance program so that all members can validate their own product development against the platform. This process not only builds value for the membership, but it further refines and tests the code as it goes through product integration and test.
GENIVI sounds a lot like an open source project, yet it is a member-only organization. How will it engage with the vast set of skills and resources that exist outside it?
The Linux Foundation has established a broad-ranging embedded device distribution project called MeeGo that includes IVI profiles along with handset, TV and other vertical needs.
Canonical's Ubuntu project also is moving quickly into the embedded space. Canonical wants to have an automotive distro that will stimulate development around its platforms and partners.
In addition, OS vendors such as Mentor Graphics are applying their expertise in converting these open source components into a commercial release that can be implemented by Tier1 suppliers to meet the requirements of automotive OEM production vehicle deployments.
The key stakeholders and beneficiaries of the underlying business model for GENIVI are active in its Board of Directors, which recently added Jaguar-Land Rover, Mentor Graphics, Magneti-Marelli and XSembedded to the governing body (Figure 2).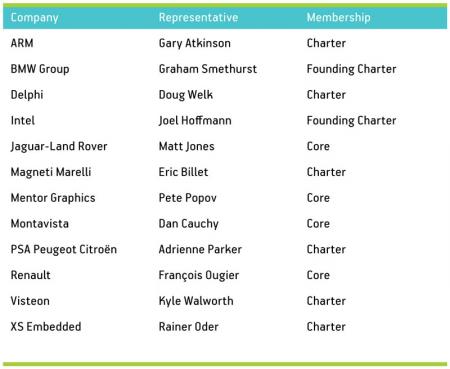 Figure 2
GENIVI board members
Through the emerging GENIVI Compliance program and an internal code validation program called Baseline Integration Team (BIT), these inbound distributions are validated against the subset of code specified in the GENIVI component list. After verifying compliance with expert group requirements and legal review, the baseline code is confirmed to be supportable in all different popular open source and commercial Linux distributions.
On the clock
Standards typically take a decade to be formed and then implemented. There are the complex and time-consuming requirements for traditional governance body operations and then the process of securing market acceptance.
Because automobiles themselves have a multi-year development cycle, one might conclude this would take still longer for GENIVI and Linux-in-the-car. After all, few, if any, carmakers have previously worked with the GNU General Public License or other open software licensing regimes for the millions of lines of their production code. This is why GENIVI has taken a more aggressive approach, including modular code that is available quickly.
This urgency is driven by the accelerating consumer demands that often determine which brand of car gets driven out of the showroom. Add to this the increased pressure to find opportunities for reuse throughout the vehicle development process, and you can see why GENIVI's value is becoming ever clearer to the industry.
The fulfillment of this vision may still be years away, but it will be years closer if you start today. The 110 companies that are taking a spin with GENIVI are likely to spend more during the first cycle, but they capture substantial time and cost savings in the second. This pay-it-forward model has been proven to work by the Linux Foundation. The task may be harder for the process-oriented automotive industry, but its value looks undeniable.
Joel Hoffmann is Business Strategist for Intel's Automotive Solutions Division. He leads Intel's Founding Charter relationship with the GENIVI Alliance as a director and as chair of the alliance's Marketing Council.