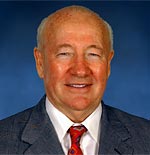 Wilf Corrigan
'Epitaxy innovator', 'ASIC champion', 'SIA founder'. Those are a few of the descriptions you could apply to Wilf Corrigan. Another, until May, was 'Last of the Pioneers' – but then, after 46 years of involvement with major chip companies, Corrigan stepped down as chairman of LSI Logic, the company he set up with three colleagues in 1981.
Two of Corrigan's fellow Semiconductor Industry Association founders, AMD's Jerry Sanders and National Semiconductor's Charles Sporck, have already retired and the fourth, Intel's Robert Noyce, passed away in 1990. Coupled with recent top-level changes at Intel, Corrigan's withdrawal from the day-to-day running of LSI seemed to complete a changing of the guard.
It is not that surprising that Corrigan should be the last of the first – he was also one of the most precocious. After spells at Transitron in Boston and then Motorola, where he was on the epitaxy breakthrough team, he joined Fairchild Semiconductor and became CEO of its parent company, Fairchild Camera & Instrument, at only 30.
"People say we created the ASIC business. Really, we were an EDA company."
"To me back then, Charlie Sporck and Bob Noyce were 'the old guys'. They were in their mid-thirties or pushing 40," he says. "But it was like that. This was the beginning. Everyone was in their twenties and thirities. And it's funny how you carry that with you.
"Today, very good execs get on the board of a company and people are saying, 'He's a young guy. He's only 40'. But I'm thinking, '40? Hell, he's ready to fall off the cart.' The truth, though, is it shows how corporate the industry has necessarily become. We've grown up – a lot. We had to."
Today, though, bureaucracy is another reason why Corrigan was not entirely disappointed to quit the front line. He admits to frustration with governance requirements on public companies that, he feels, leave little time for actually managing them. Corrigan is therefore planning an active retirement, working with private start-ups through a family investment vehicle, Rockpoint Capital.
"We're going into a lot of early-stage companies in nanotechnology. We're at a point where it's potentially so pervasive that you still want to know how things will move on, so you take a number of positions. But I am obviously interested in what nanotech can do as an extrapolation of semiconductor technology," he says.
"LSI has been doing a fair amount of work with a couple of nano companies that looks at blending carbon nanotube technology with conventional CMOS. If you want to do big blocks of very dense read-only memory, it looks like that will work. And ultimately, you would like to use the technology to make transistors that have 100 times the density we're seeing now."
Corrigan is also fascinated by China, where LSI has a strong client base – particularly because of its DVD and HDTV silicon – and where he personally is involved in a joint venture. To this end, he sought an alternative view on the country's development this Spring.
"Normally, I've flown into Beijing or Shanghai or wherever, but this time I was doing it from a ship, going from port to port," he says. "You start to see the balance of trade. Every port is a container port and you see the goods moving in and out, 24 hours a day. You see the construction going on. It's immense and it's not just limited to the profile cities like Shanghai. And you realize that it's very much a cash economy and that's not showing up in the official figures. I was blown away by the different perspective I got. Growth in China is much greater than Wall Street thinks it is."
Corrigan has typically strong views on how he sees the business developing. On a broad level, he is dismissive about the forecast demise of Moore's Law: "We've been saying it's going to end for 20 years, but we always find ways of staying on the path. However, for the economics, what has changed is manufacturing.
"The accounting rules make it very difficult to build a wafer fab in the US because of this obsession a lot of states have with taxation based on an asset value. So, either you go to foundries – so you don't even have to stump up the capital cost – or you go some place where the system is more friendly. AMD went to Germany. Intel has been to Ireland and Israel. These are places where the governments come up with the money or don't put lead weights on you with the tax system."
Corrigan is similarly phlegmatic about forecasts of the ASIC's decline, citing Makimoto's Wave, the concept defined by Sony's Dr. Tsugio Makimoto of a 10-year period during which the market switches from custom to standard products and back again.
"Philosophically, Makimoto was right. But where I'd refine his idea is to say that different segments of the market are at different points at different times," Corrigan says. "For example, we had the period where peripherals were custom because Intel's position there was weak. But you roll that movie on and eventually you have the standard peripherals. The same happened with Winchester disk drives – all these companies wanted to get into the business from the late 1970s but they couldn't find the supply, so that went custom. But gradually, again, it became standard.
"The trick is that these cycles are not concurrent. LSI was lucky, for example, that when some sectors went standard, we had the networking business emerge in the early 1990s. Guys like Cisco [Systems], Juniper [Networks] and Alcatel needed very complex custom circuits. Now that's gone to more of a 'black box' model, but it shows how things work."
Meanwhile, in looking back, perhaps Corrigan's most intriguing perspective comes from how he views the development of LSI Logic, as it celebrates its 25th anniversary. "I hear people say we created the ASIC business. Really, we were an EDA company," he says.
"For a start, there already was, well, not an ASIC, but a custom business. At Fairchild, we did custom work for Burroughs or Honeywell because there was volume. But if anybody else wanted custom, typically we wouldn't because there wasn't the volume. You also had the jobshops, but they didn't really do custom very well. And the big companies had started to push their own semiconductor divisions, but there was the worry there that you'd spend all this time on the design and it wouldn't work."
After selling Fairchild to Schlumberger in 1980, Corrigan was looking for a new challenge. "I researched the customer base and they said they didn't want another memory guy and they didn't want another microprocessor guy and then there was this 'other stuff' – 'But you wouldn't be interested in that.' And that was the custom stuff," Corrigan says.
In fact, he had some technology on the stocks and it is here that the connection to EDA emerges: "We realized that about 10 years earlier we'd more or less figured out how to automate making chips. We'd done it for the calculator business, but before we used it, standard products came along. Crucially though, we'd thought through the methodology."
Applying this knowledge to markets such as Winchester disk drive chips and military projects got the fledgling company on its way.
"We could pull together software programs to automate the design and we put together simulators so that the customer could explain what he wanted and we could effectively reduce it to digital form," says Corrigan. "We then applied a gate array strategy, and based on that infrastructure we could give the customer a chip that worked first time.
"The other thing we did was to charge customers a realistic cost to do the R&D and the engineering. Up until then, that had been bundled into the final chip cost. So, basically it was an EDA play. At peak, we had the automation so that we could produce two or three designs a day."
It is an intriguing perspective and one that has an echo today in the tooling that many companies supply alongside their silicon – some of LSI's founders also ended up in the EDA business proper. However, for the current market, Corrigan puts more emphasis on the development of intellectual property, finessing a standard design to meet customers' needs.
"Today, you've got the debate about FPGAs, platform ASICs and structured ASICs and so on. But it's the bottom of the pyramid and while that's a percentage of the business, and while there's a huge amount of noise around it right now, it's not the bulk," he says.
"As you get further up the pyramid you're having to provide a lot of other things with the chip. It's mainly software, but you've got to spend a huge amount of effort developing other things, mainly system engineering, the actual guts of the system. Ultimately, this revolutionizes the end market.
"It's why the Chinese can show up at the Consumer Electronics Show and have very competitive product lines with Sony and the rest. Because they buy a chip and everything is in the chip. And a Chinese manufacturer needs virtually no technical staff if he's got that chip and the reference design to go with it. LSI engineers in China will sit down with him and tailor the software in a month or two to give a specific look and feel to his device. And that client might have just three engineers in his operation. Now that is a huge shift and you are seeing it more in the end product than the silicon specifically."
This is another model that Corrigan will ultimately be seen as having helped pioneer. Perhaps, though, one should not be too certain that it will be the last.