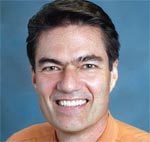 Joe Costello
The dominant theme for DAC 2006 is multimedia, games and entertainment. So how does Cadence Design Systems founder and former CEO Joe Costello fit into that? He is after all giving the conference's Monday keynote.
Let's do the ticklist. EDA credentials? Dated – he left Cadence in 1998 – but basically a 'check'. Strong opinions credentials? No worries there – 'check' with a bullet. And, finally in our brief review, consumer electronics credentials? Well this is the interesting one. Because whatever else you think Costello might have been doing for the last eight years, this gets a 'check' too.
First, let's rewind by about a decade. Costello, then still Cadence CEO, was touring the company's various offices.
"It would be about 1996 and I was going around meeting the staff, and I would give this presentation", he recalls. "And one of its main themes – because it was also what people were always asking me – was how was this electronics industry we were all in going to grow.
"We had already got big. The value of electronics was around a trillion dollars. We'd just reached that point or were maybe just shy of it. And it became clear to me that when a market reaches that size and you're then looking for large scale future growth, you're hoping for some pretty mad plays. And the one place you could see that happening was consumer electronics."
Before basking in any 'I told you so' glow, Costello does acknowledge that he was not quite 100% on the money.
"I was saying that this was going to be a major change, and that we were going to have to adapt to it, and that it was going to take place over 5-10 years," he says. "Well, we all know what happened. There was a four-year hiccup from around 2000 onwards. Everybody pulled their horns in.
"But now, this critical force, this 'consumerization of electronics', it's finally come true. And electronics is having to make the adjustments to deal with that."
A lot of people yack about time-to-market, but still don't really get it.
One could therefore see Costello's DAC speech as a V2.0. Certainly, he believes that some messages bear repeating; but on another level, the reality of consumerization has also set new challenges. To consider one of the standing lessons first.
"Part of it has always been about how you see time-to-market," he says. "I'm at a few steps away from EDA now, so I want to be careful about the assumptions I bring into play. But, on this point, I'm hearing a lot of people yack about time-to-market – and there are those who do get it. But I think there are quite a lot who still don't, and the industry must get a lot more serious about this."
Costello illustrates his argument by drawing another parallel with his original thesis.
"Back in '96, I gave a couple of examples of the kind of consumer electronics that was going to open up and be phenomenal. One, I think, was DSL and the other was digital cameras. Since then, we've seen what broadband has done and we've seen film start dying. But 10 years ago, this was geek stuff and, with the cameras, the quality wasn't so hot; they were high price point and low performance.
"This though is where your real understanding of time-to-market comes in. You've got to be getting away from the geek thing and asking yourself, 'At what's point do we hit that sweet spot for price and performance?' And, just as important, 'Who can do that?' That's why the iPod is a sweet example – there were much better performing music players out there when it arrived, but it had the look and the interface that people wanted. The marketing part here is huge.
"This is a very different concept of time-to-market than focusing just on delivering a chip to a certain schedule. Time-to-market is a multi-headed thing, and what it needs are very strong partnerships right across the supply chain, right through electronics design to EDA. What you find out from those partnerships is that consumer electronics has its own different rhythm, different scale and different demands. The other risk you're looking to avoid there is an old one: delivering the best technology in the world and not being able to sell it."
But what about the trends that have emerged in the last decade? Low power and analog design are two obvious topics that have risen up the agenda.
"You could see the need for more analog and mixed-signal design muscle a decade ago because consumer electronics is all about I/O. It's the iPod again. People love the 'I' – it's easy to load. And they love the 'O' – it's easy to use. And you've got to put all that together. But you've also seen low power move off the fringes. And I think for both, the driver there has initially been mobile comms," Costello says.
"However, I think that those lessons have kind of been done. Consumer electronics is all about wants, needs, desires. And what's happened is that electronics design met the demands of that human psychology with whatever tools and capabilities there were. They had to make it happen, so you got the learning."
DFM home truths
Joe Costello's 'day job' running MCAD and PLM company think3 has also given him some insight into the realities of design for manufacturing (DFM) among industries that are supposedly more advanced in its deployment than semiconductors.
"And the truth is that it's kind of there. But there is also much less of it there than you would imagine. They do a better job of talking the game than delivering," he says.
"Sure, the guys at the pinnacle – the guys the stories get written about – they can show you some very complex, very slick systems. And the assumption then is that everybody else is doing this kind of stuff. In fact, the vast majority do bupkis.
"However, when it comes to electronics, I think adoption could be much broader and much faster. In the semiconductor world the cost of manufacturing mistakes is real pain. And when the cost rises high enough and the pain rises high enough, things happen.
"People ask me about where to invest and for electronics, DFM is one area I'd look at. Just don't get caught by what the other guys claim they've done."
To push the envelope further, Costello argues for broadening the vision in terms of how the business addresses what is now under way.
"We are entering another round of phenomenal excitement in consumer electronics and in digital media and entertainment. And the one thing it's telling us is that all these phrases we're trying to tie things down with – well, they don't work any more," he says.
"What does 'consumer electronics' say to you? Boxes – DVDs, set-top boxes, TVs. But what we're really dealing with now, what's changing things, is the package of the devices and the infrastructure, the whole delivery element."
This more holistic view also tunes in to the direct experience Costello is getting right now of consumer electronics (paucities in the definition notwithstanding).
His most high profile role since leaving Cadence has been as chairman and CEO of think3, a product life-cycle management (PLM) and manufacturing CAD (MCAD) company. However, through the incubator in which he invests, BravoBrava, Costello is about to go into heavy promotion for a spin-out that has been under his wing since before the turn of the century.
Orb Networks is a web-based access system for a user's TV, music, files and yet more besides. The venture evolved out of Costello's interest in the marriage between education and technology after leaving Cadence. That initially led him to Knowledge Universe and later into a broad interest in start-ups. It was at this point that he hired a group of researchers from the Stanford spin-out SRI to work for BravoBrava.
"They were looking at a number of education ideas and one of those areas involved how to use interactive TV. One of the deals I had with the SRI people was that they could spend 20% of their time on their own stuff and, as a result of that and through this TV strand, we emerged with this architecture that allows hardware, software and network-based applications to play together and communicate transparently," he explains.
"At first – and this goes back to 2000 – it was difficult to see who to sell this to. We needed to flesh it out and to flesh it out. And we had a market that was on this four-year hiatus."
Things have changed. Devices such as the TiVo HDD recorder and the Sling Box, which distributes users' personal TV over broadband, are now seen as hot consumer items.
"We have a means that allows you to have access to and control over any of your digital content, wherever in the world you also have access to a web browser. And that's all you need beyond the connection and the software," says Costello. "And over the next year or so, you'll be hearing a lot about Orb. It is going to take up more of my time as well.
"We are now getting the interest and putting together the partners for the technology," he says. "It is basically the time to start going to market."
So, check that final box. Costello finds himself in a position of having both EDA and consumer electronics in his arsenal. And he's putting his money where his mouth is.