Choose, but choose wisely
The consumer sector has become a reliable bellwether for the state of the electronics industry. However you slice it, the latest data does not paint a pretty picture. With the publication of its latest U.S. market forecast, the Consumer Electronics Association (CEA) provided data that put the typical knock-on effect of a recession into concrete terms.
"Economists estimate that for every dollar decline in wealth, consumption declines approximately 4-8¢," said Steve Koenig, the association's director for industry analysis.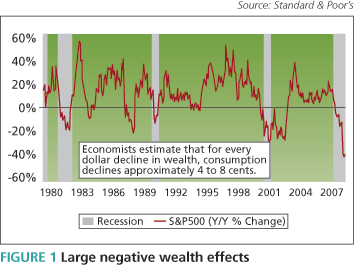 Given that macro-economic formula, the further bad news is that the 'wealth' number (broadly analogous to disposable income) is now 40% off the base (Figure 1). And remember, consumer spending represents about 70% of the U.S. economy.
"[2009] will remain a very bad year," said CEA economist Shawn DuBravac. "This will be the worst two-year period we've seen since the early eighties. We project that this year consumer spending will be down 0.3%, which will be a little bit worse than we've already experienced in the latter part of 2008."
Overall, according to CEA chairman and CEO Gary Shapiro, his organization is forecasting a -0.6% year-on-year drop in U.S. consumer electronics factory sales for 2009. This will follow on from a 5.4% rise in 2008, against an originally forecast 6%.
If confirmed, this projection will mean that 2009 is only the fourth year since the seventies when CE revenues have contracted, alongside 2001 (a post 9/11 3% drop), 1991 (-0.8%), 1974 and 1975 (both of which suffered double-digit declines).
Even before we entered 2009, retailer Tweeter had shuttered all its stores, Circuit City had filed for Chapter 11 bankruptcy protection and Polaroid Consumer Electronics had done the same. Circuit City has since also been forced to throw in the towel.
At least the CEA is looking for a relatively short and sharp downturn. "2010 should be a year of recovery, and we hope and expect to return to positive industry growth," Shapiro said. However, in the meantime, should we all head for a dark, dank corner of the basement and pull on a paper bag?
Strangely enough, by mining the data you find evidence to suggest that while things are going to be tough, notions that electronics design activity is about to judder to a halt are misplaced.
Recession or not, 4,000 flat screen TVs are sold every day, 20,000 new products were launched at the Consumer Electronics Show in January, and American consumers are still set to buy more than one billion CE products over the course of 2009.
It is probably fair to say that we entered the age of 'electronics everywhere' several years ago, largely courtesy of the mobile phone. However, one positive aspect of that may only become clear now that we are in recession: many CE products are no longer viewed as luxuries but more as essentials, and are therefore less likely to fall out of people's spending plans when belts must be tightened.
Consequently, there are numerous instances of products where the unit shipments are set to rise in 2009 even though price pressures and other market dynamics may cause revenues from them to fall. It is all a question of balance. One particularly fast-moving product shows how carefully that question must be considered.
The rise of the laptop 'lite'
Netbooks, ultra-lights, mini-notebooks—call them what you will (notwithstanding that there are some trademarks in there). The fact is that if you are working on board design for any of these children spawned by the 7-inch-screen Asustek (aka Asus) Eee PC, you are probably looking forward to a busy 2009. The same is true for those working on processors and other chipsets for this market.
It is hard to believe that the first of these products only shipped as recently as September 2007, less than 18 months ago. Already, the CEA says that they account for 7% of all laptop sales, and forecasts that they will move up to an 11% share by the end of the year (Figure 2). The Information Network, a Pennsylvania-based research firm, takes a broadly similar view on the units. It says that 11.4 million of these devices were sold last year and that 21.5 million will sell this year, implying a 12% share.
In many respects, the start of shipments for Intel's Atom processor last April really ignited this segment, bringing in vendors who competed to follow Asus in shrinking form factors and applying better and better industrial design (rapidly becoming an even more powerful product differentiator here than processor power, OS, or memory). Dell, Lenovo and Acer have all launched their own Atom-based equivalents. HP has also entered the space, but using a Via Technologies processor.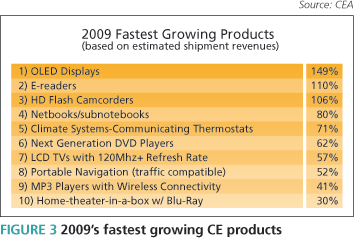 At CES, a second wave of products, now based on rival ARM-powered processors, went on view. These ranged from Cortex A8-based offerings in CPUs from companies such as Freescale Semiconductor to Qualcomm's Snapdragon engine that is based around an ARM architectural license. This new set of machines has brought a more problematic side of the 'netbook' market into focus.
The original Eee PC was Celeron-powered, had a very short battery life and was not intended for much beyond Web-surfing and email. As such, calling these devices 'netbooks' actually suited Intel quite well. It implied that this was a wholly separate product segment from that of notebooks, preserving the higher-end market for its more expensive, higher performance (and higher margin) Core processors. In short, the Eee PC (and its equivalents) were 'cheap' at around the $300 mark because they were limited.
Then, however, netbooks started to undergo 'function creep'. The processing power of the Atom allowed OEMs to add Windows XP and programs from Microsoft Office or—to keep costs down—have their products run the OpenOffice suite on Linux. Now, the entry of ARM-based chips has upped the ante still further.
Here are the technical specifications for Qualcomm's Snapdragon platform:
1GHz CPU
600MHz DSP
Support for Linux and Windows Mobile
WWAN, Wi-Fi and Bluetooth connectivity
Seventh-generation gpsOne engine for standalone-GPS and assisted-GPS modes, as well as gpsOneXTRATM Assistance
High-definition video decode (720p)
3D graphics with up to 22m triangles/sec and 133m 3D pixels/sec
High-resolution XGA display support
12-Mpi camera
Support for multiple video codecs
Audio codecs: (AAC+, eAAC+, AMR, FR, EFR, HR, WB-AMR, G.729a, G.711, AAC stereo encode)
Support for broadcast TV (MediaFLO, DVB-H and ISDB-T)
Fully tested, highly integrated solution including baseband, software, RF, PMIC, Bluetooth, broadcast & Wi-Fi
Notwithstanding XP's absence from that list, this kind of machine looks very much like a traditional notebook. Indeed, the capability of these small form factor machines to take on more and more functionality is not only being driven by increasing competition and performance in the processor space, but also by trends in storage.
According to SanDisk, integrating 32GB of solid-state (typically flash) storage (SSD) into one of these machines now costs about the same as an equivalent capacity 2.5" hard disk drive (HDD), and a 64GB SSD is available at only a "small premium" to the equivalent 1.8" HDD.
Prototypes are in circulation that can quite comfortably carry three HD movies and—given that they are based around engines optimized for the low-power obsessed mobile communications space—have the battery life to show them. The portable computer that can run for an entire transatlantic flight is apparently with us—some designs are now claiming capacity of eight hours and above.
The even more important issue here, though, is cost. Netbook OEMs say that an Atom processor adds $30 to a bill of materials, and to date this has set the floor for this new market at about $250 retail. However, the Freescale i.MX515 used in a netbook launched at CES by Pegatron is said to add only $20, and also comes with software and other peripherals. Thus armed, Pegatron is targeting a $199 price point, the figure the far less well-featured Eee PC originally aimed for but could not hit.
Competition for this netbook space is going to intensify still further. Other ARM licensees such as Samsung, Texas Instruments and Marvell will release CPUs for it. AMD, Intel's chief rival in higher-end PCs, now has the Athlon Neo. Via already has the ultra-low-voltage C7-M processor used by HP. And graphics specialist Nvidia has ambitions in this segment. It is an exciting space, then, and promises to be a very busy one for design in the months ahead. If there is one other thing that is now obvious about these netbooks, it is that their functionality is still in flux.
However, what about the bottom line? There are those who see Intel's Atom cannibalizing its existing higher-end laptop business. According to the Information Network, consumers do not see netbooks as a separate category, but as a cheaper alternative to a 'traditional' laptop. As a result, the research firm has said that Atom may have actually cost Intel $1.14B in revenue in 2008, and could cost it another $2.16B, assuming 50% of netbook purchasers would otherwise have bought notebooks and a $200 price difference between Atom and Core devices.
There is one further factor here, the insertion of mobile communications economics into a PC space. So far, Europe has been a far more voracious adopter of netbooks than North America. An important volume driver is that the machines are being bundled with data contracts by the continent's 3G network operators. The first similar U.S. offer came in January from AT&T, which is discounting Dell's Inspiron Mini 9 from $449 to $99 in return for a two-year 3G data contract.
When network operators become major customers, suppliers soon find that they are not willing to accept PC-level CPU margins. That is an assumption that ARM and its licensees are using in the business model they are using for netbooks, seeing the space as an upwards evolution from cell phones, through smart phones, through mobile Internet devices and ultimately into something akin to the traditional computing space. Is Intel then trapped with Atom by a process under which it is evolving backwards, to some extent? And bear in mind that recessionary economics and their impact on consumer buying patterns need to be overlaid on all these existing market dynamics.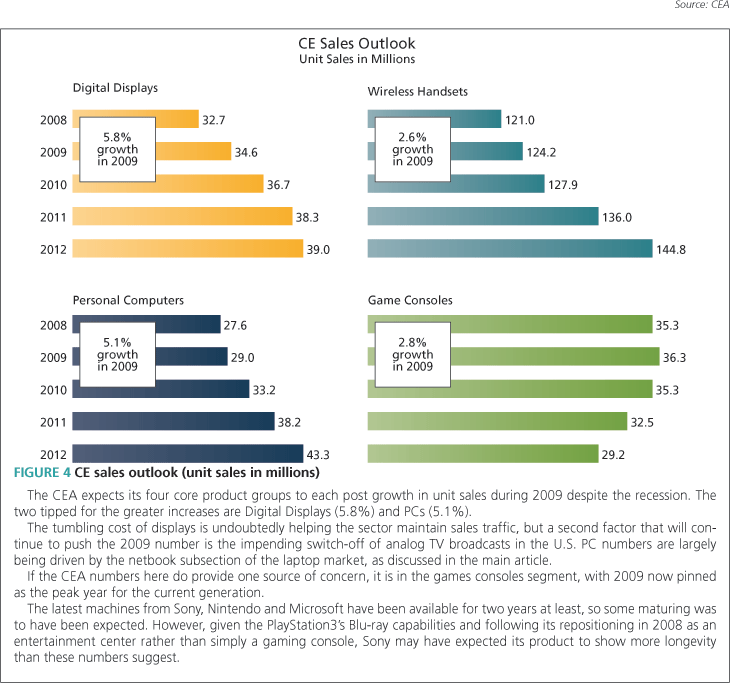 Just good enough?
In 1997's The Innovator's Dilemma, Clayton Cristensen famously described and analyzed a number of the scenarios that have challenged and wounded technology companies, even when they have been apparently on top of their games. One tale in particular is being cited by a number of executives right now and concerns the former Digital Equipment Corporation (DEC).
DEC was, in its time, the prince of the minicomputer business—but then along came the PC, and for a number of reasons, including its structure and insistence on only high margin business, DEC missed the boat. However, another important factor was that while DEC continued to make the highest performance computers, that equipment's specifications far exceeded the market's need. The PC's strength was that it combined being 'just good enough' (JGE) to do what its users needed with a much lower price point. Sound familiar?
To suggest that Intel may be at a similar crossroads now is something that the company's competitors might well promote for obvious reasons—though you doubt that even they believe it entirely. Nevertheless, there may well be something in the idea that we are entering a period where JGE products are those that are especially well placed to win customers' business.
Figure 3 shows the products that the CEA expects to post the greatest volume growth in 2009. In reviewing that list, one caveat always has to be made: any percentage ranking will always favor very new products that are growing from a low initial sales volume in the year before. Still, you can reasonably argue that five of the product groups on that list fit JGE criteria.
HD flash camcorders
Flip video's MinoHD has an incredibly straightforward
iPod-like user interface but few of the effects that you will find on a traditional camcorder. It will capture high-definition H.264 video—about an hour's worth on a 4GB SSD—and fit in your pocket. Accessing the content is via a simple USB connection.
The retail price is $229.99 against a previous entry level for HD camcorders of about $500, but the Mino will do what most people want it to do. More to the point, most established OEMs in this space are bringing their own 'me too' products to market.
Netbooks/subnotebooks
See above.
Next-generation DVD players/home-theater-in-a-box (HTIB) with Blu-ray.
There was surprise in some quarters that although sales in this segment rose 118% in 2008, the figure should have been much higher given the comparatively low base and Toshiba's decision to terminate the HD-DVD format almost immediately after CES 2008. Blu-ray Disc should have done much better with the market to itself.
However, for most of last year, Sony concentrated on marketing the format through its PlayStation3 (with, apparently, limited results among non-gamers) while other manufacturers held back equipment that fully met the 2.0 specifications until later in the year.
More importantly though, low-cost Blu-ray players—such as a $199 model from Best Buy in-house brand Insignia—only reached retail shelves in the fourth quarter. As this price point continues to fall over the course of 2009, more take-up will occur as the format moves from being a premium, performance-based technology, to one whose JGE position is established by the cheaper kit. The bundling of Blu-ray technology in home theaters will also help.
LCD TV with 120Mhz+ refresh rate
The LCD has long been perceived as a junior technology to a plasma display in performance terms, but once it does get to this level of screen refresh, the important point is that it will have improved sufficiently to convert more consumers.
The overarching point here is that none of these products would necessarily have the notion of 'high-end' associated with them. They are mass-market in the purest sense, but with perhaps more of an emphasis on the price point underpinning their growth than might be the case in a more robust economy.