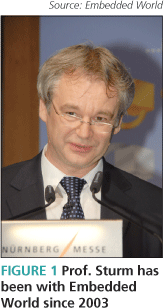 The 2009 Embedded World conference and exhibition in Nuremberg, Germany (March 3-5) has managed to maintain much of its scale despite the global downturn. Some speakers have apparently been pulled out by their companies—the most notable contingent, sadly, coming from the USA—but overall the exhibition has expanded by 5% in terms of its physical size and is also reporting a useful increase in international participants.
Meanwhile, its collocated conference, organized by German magazine Design&Elektronik, is set to address an admirably wide range of subjects, touching on all of the embedded sector's existing and emerging concerns. This combination of an increasingly broad-based technical event with a remarkably healthy show provides sufficient justification for Embedded World's claim to be its sector's pre-eminent annual global gathering.
The technical side is overseen by Dr.-Ing Matthias Sturm, conference director and professor of Microcomputing and Electronics at the Leipzig University of Applied Sciences. It is a complex task, embracing all three key aspects of embedded technology—hardware, software and tools—and then weaving them into a diverse set of subjects. However, in Sturm, the organizers have very much the right man for the job.
Sturm's enthusiasm for electronics dates back to his childhood, his research includes work in embedded systems during the 1970s (before they were even known as such), and he has made significant technological contributions himself. "One project of which I'm particularly proud was a microcontroller-based, embedded Web server, and we published the research on that in September 2001," he says. "That application may not be seen as so spectacular today, but by describing the server starting with a circuit schematic through to complete software sources, we provided evidence that you can make a Web server with a 16-bit MCU. Numerous designers took up this suggestion, adapted it and developed it further."
Sturm's work today is looking toward the use of embedded systems in life science engineering, an area that, in the years to come, is likely to become a fruitful market segment. More immediately, though, there is this year's conference, Sturm's seventh. The length of his involvement puts Sturm in a good position to judge how Embedded World has and will develop, and what it offers to engineers.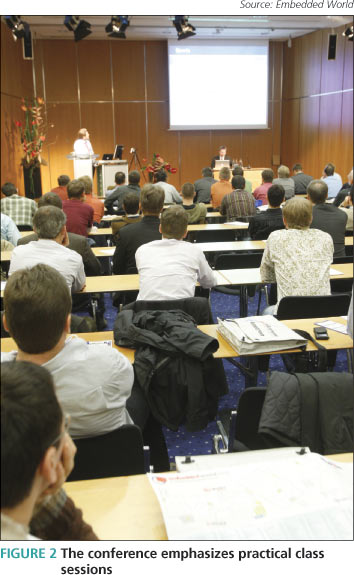 "The combination of exhibition and conference, both organized and staged by highly motivated teams that do an extremely professional job, is only one reason for the success of the event," he says. "What's equally important is that despite Embedded World's tremendous growth, the design community still sees it as its very own event. It's no exaggeration to say that the family character of 'Embedded'—as most of those attending call it—is a major factor in that success."
Sturm also believes that Embedded World is a vital event because it completes a virtuous circle in terms of both its delegates and the stand personnel. "Both designers and decision-makers get their money's worth. What's noticeable is that the majority of exhibitors are very positive when judging the quality of attendees and the discussions they are able to have with them," he says. "A large percentage of those visiting the exhibition booths to gather more information are development engineers. So, as the exhibitors have realized this, they are increasingly sending engineers from their development departments to man their booths because the technical discussions that result can often be very in-depth. Visitors aren't interested in a show in the sense of entertainment. They're looking for direct contact with other developers. They want technical information straight from the source, and close contact with someone who can offer them something."
Meanwhile, the conference is developed to a very clear agenda that reflects the various different and practical priorities of the attendees. "The conference offers participants various possibilities for broadening and furthering their own knowledge, according to their expectations; it is split between an even balance of classes and sessions," says Sturm.
Classes typically last a whole day and cover a specific topic. They are aimed primarily at participants who want to familiarize themselves thoroughly and efficiently with a particular field.
"There are options for direct dialog with experts to help attendees clarify a whole load of questions. The idea is to offer an excellent opportunity of deepening and widening your knowledge fast. The classes are also didactic in structure to guarantee a high level of learning success," says Sturm.
Meanwhile, the sessions serve primarily for the presentation of more discrete ideas, solutions and experience in embedded system development. "They're a lively forum for imparting knowledge, and the resulting talks are often just the starting point for further discussions at the exhibition booths. However, for the conference we stress that we want purely technical presentations without any distracting marketing," says Sturm. "At the same time, the sessions will allow attendees to quickly acquire an overview of certain technologies and the latest trends."
In that latter respect, Embedded World will this year build on the strong position it has always given to low-power applications and smart energy management with a session dedicated to green electronics.
"But there are many other areas of special interest," says Sturm. "There we have, for example, sessions on safety-oriented systems, system design at a high abstraction level, and the effective development, programming and handling of multicore systems. There are issues that continue to revolve around RTOS, embedded Linux in different builds and open source. Embedded security and cryptography are increasing in importance, and are therefore also on the agenda."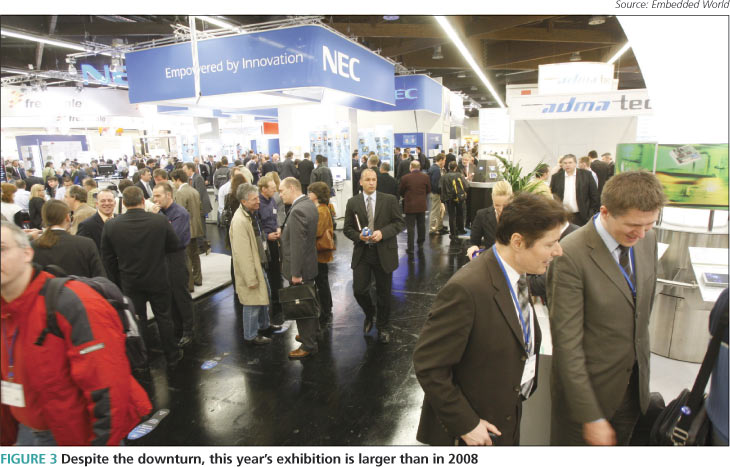 The conference also attracts name speakers for these areas. At this year's event, consultant David Kalinsky will speak on RTOS, Prof. Nicholas McGuire of the University of Lanzhou will speak on embedded Linux, Prof. Christof Paar of the Ruhr-University of Bochum will speak on embedded security and Dr. Bruce Powel Douglass of iLogix will speak on model-based development.
Sturm says that Embedded World has—for now, at least— avoided the worst effects of the global recession. "Preparations for a conference always start straight after the preceding event. You need a certain run-up for the jury to review the submissions, to compose the program, and to publish the contents of the conference," he says. "So the financial crisis hasn't yet had any effect on arrangements for this year's conference.
"Moreover, the financial crisis isn't causing the innovative power of the community to dwindle. Engineers are still implementing innovative ideas, and making things possible that once seemed fantastic or quite impossible. It'll just take a little longer. Aside from the financial crises, as a professor at a university, I feel it's important that engineers continue their education so that they're well prepared to face future challenges, and that they let others know of the enthusiasm they put into their daily work, and pass it on to the next generation."
More information on Embedded World's conference and exhibition is available online at www.embedded-world.de.
Embedded World 2009

Session topics

Network technologies
Wireless technologies
Multicore processing
Development tools
Microprocessor architectures and cores
Cryptography and embedded security
Graphical user interface
Memory in embedded systems
M2M-communication
Automotive applications
System on chip
Software development methods I, II
CompactPCI Plus
Safe and secure virtualization
Green electronics
Automotive software development & test
Embedded system architecture
Managing development projects successfully
Model-based design
Embedded Linux
Debug methods
Software quality/test & verificationSuccessfully implementing ARM

Embedded World 2009

Class topics

Modeling embedded systems with UML
Introduction to real-time operating systems
Introduction to real-time Linux
Linux in safety-related systems
Solutions workshop—get the most out of Cortex M3 debugging
Creating multitasking systems with real-world timing
Open-source project management
More busting bugs from birth to death of an embedded system running an RTOS
IEC61508—developing safety-oriented software
Cryptography and embedded security
Design of safety-critical systems
Using standards to analyze and implement multicore platforms
Design and test of safety-critical systems
Modeling real-time systems
Software development in HLL I: JAVA
Software development in HLL II: C++
Software design for multicore systems
Unified Design—innovative architectural design methodology for embedded systems
USB host workshop with NXP L
ARM quick start workshop for LPC1700 (Cortex-M3)