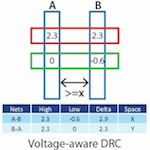 How you can use the dedicated rule decks now being provided by foundries as the foundation for a reliability verification flow.
Accellera's Portable Stimulus standard aims to improve verification efficiency and the reuse of test IP across the entire design life cycle.

FinFETs present a number of problems with respect to dynamic power consumption. Design techniques are being re-evaluated to deal with the issue.

Monolithic 3DIC integration may provide a viable alternative to conventional 2D scaling for SoCs if manufacturing problems can be overcome.

As AI becomes pervasive in computing applications, so too does the need for high-grade security in all levels of the system.

Exchange frameworks are emerging to make it easier for neural-network developers to swap between development environments.

Machine-learning strategies for embedded vision are evolving so quickly that designers need access to flexible, heterogenous processor architectures that can adapt as the algorithms evolve.