Imperas
Andes Technology has expanded support for its RISC-V processor cores through deals with Imperas and UltraSoC.
The RISC-V workshop in California at the end of November 2017 provided the opportunity for Western Digital to commit its own work on processors for internal use to the open-source architecture and for the ecosystem of off-the-shelf cores and tools to expand.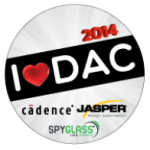 At DAC 2014, some 30 per cent of exhibitors are IP suppliers, offering design services or both, demonstrating how system-level design is about building on what has gone before.